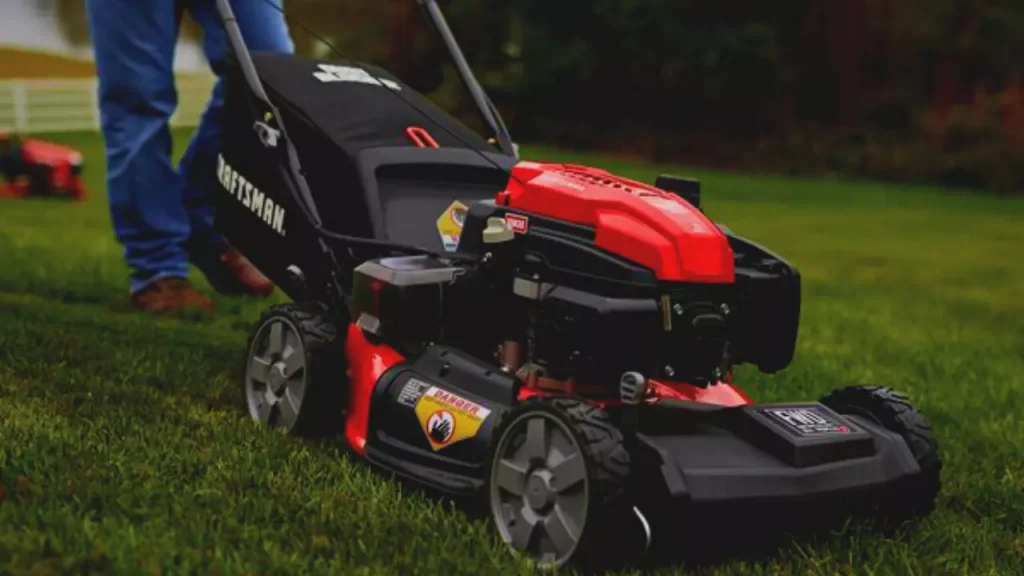 This is our review of the best craftsman lawn mower in 2022. 
The craftsman lawn mower brand was born in 1927. Craftsman is a line of tools, lawn, and garden. This is the most reliable power tools brand in the USA, for their innovative products with superior performance. 
Today our best pick is a craftsman M25O self-propelled lawnmower. It is strong, durable, and easy to operate. And its versatile lawn mowing features help to make this mower stand out at the top of our list. 
So, today we are only talking about the best craftsman lawn mower in 2022. 
I'm mohammad, working as a garden expert for the past couple of years. Today, I loved working on the garden and sharing tips with my friends. 
However, 4 other types of lawn mowers are manufactured by craftsman. Those are 
So, based on the features, performance, and power we choose all the mowers. 
Let's get started…
Quick Summary: What is the Best Craftsman Lawn Mower?
There are more than 100 different models available at craftsman. Those are different types and best for different types of mowing tasks. And they offer pretty much the same specs at different price tags. So it's really hard to choose which one is best if you are not a lawn mower expert. 
Based on our experience we choose the top 4 best craftsman lawn mowers for the money. 
For those who are in a hurry, I've summarized some of the highlights of the craftsman lawn mower on the market. 
Let's see…
1. Best Craftsman Self-Propelled Lawn Mower – Craftsman M250
What You Will Love: 
Easy to operate self-propelled drive system
Variable speed control system
160cc powerful honda engine
Compact storage
Dust blocker bag
Deck wash port
Best for: Medium flat lawns
What We Like: Starting with its 160cc honda engine combiner with a 6 position multiple height adjustments and allows cutting the grass at a different level.
And for the superior grass management, it has mulching, bagging, and side discharge. On the other hand, perusing the deck cleaning the mower features a deck wash port and dust blocker bag. 
Thumbs up.
This is a self-propelled lawn mower that features variable speed control based on your walking speed. It is a front-wheel-drive lawn mower. That's best for a flat lawn. But for the uneven lawn, we do not recommend this one. 
And also for ensuring the long life the mower offer 2 years manufacturer warranty
Who Should Buy It: For people who have small to medium flat lawns with smaller slopes and don't love to push the mower then this one is a perfect choice.  
---
2. Best Craftsman Push Lawn Mower – Craftsman M110
What You Will Love:
Great bagging
Adjustable handle
Mulching kit 
Powerful engine
Best for: Small lawn
What We Like: Though you can't do the hardest mowing job, with this mower you can easily do every medium mowing. 
The mower is equipped with a 140cc Briggs and Stratton engine that produces enough power to propel the 21 inches and provides a clean cut. Also, its dual lever 6 position height adjustment makes it easy to change the cutting while mowing and its adjustable handlebar provides optimal comfort. 
The mower grass management features are quite convenient. It can mulch, bagging, and side discharge. 
Though it's a low-budget powerful mower, like the other mowers it also has a two-year warranty.
That is really great. 
Who Should Buy It: People who have more than a quarter (1/4) acres of lawns, and don't spend too much money on a lawn mower and need a powerful mower. 
---
3.  Best Craftsman Riding Lawn Mower – Craftsman T110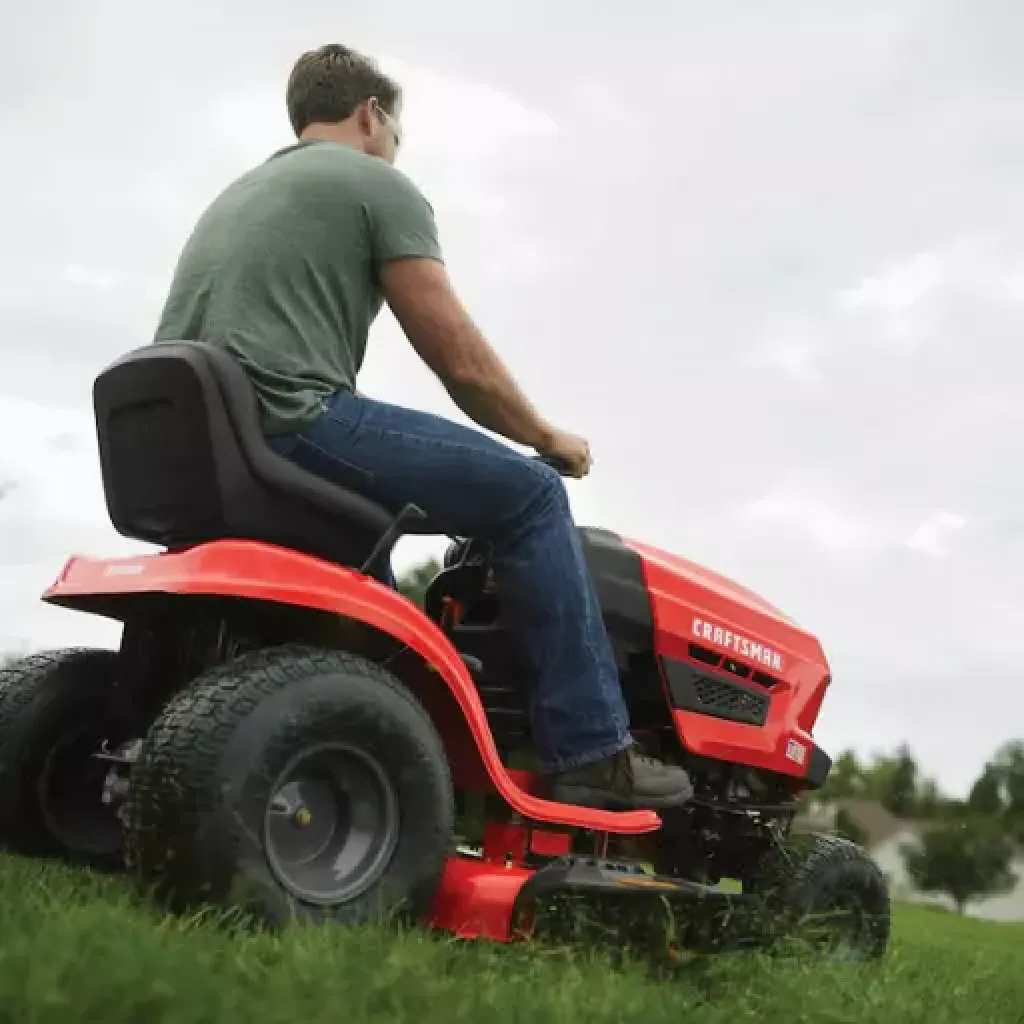 What You Like: 
Powerful, durable and easy to use
Larger cutting deck
7 speed manual transmission
Low back seat
Mulching kit
2 year warranty
What We Like: Looking for a riding mower for a small garden tractor? If so, the T170 is one excellent solution to take into consideration. it's a single-cylinder 17.5 HP designed to provide power, durability, and ease of use. 
The powerful Briggs and Stratton engine featured a 42-inch cutting path that cut enough grass with a single pass. 
Its low back with 7-speed manual transmission provides comfortness. And never allow back pain during your mowing time. 
For superior grass management, the mower has a side discharge and mulching kit. 
Being a riding mower its turning radius is 18 inch and its turf save wheels allow it to easily navigate around obstacles. 
Who Should Buy It: The T170 has a smaller deck than the larger commercial riding mower, but it is twice as wide as the average push of a self-propelled walk-behind lawn mower. If you have 2 acres of lawn to mow, the craftsman T170 can seriously reduce how much time it takes to get a job done.
---
4. Best Craftsman Zero-Turn Lawn Mower – Craftsman Z5800
What You Like:
Twin-cylinder powerful engine
Commercial cutting deck
Steel frame design
Dual hydrostatic transmission
Adjustable lap bar
Rubber foot pad a smoother ride with less vibration
Stamped steel deck
High back seat
3-year limited product manufacturer warranty and 5-year frame warranty
What We Like: For a zero-turn mower, the craftsman Z5800 is not only smarter but also goes where the larger mower can't go. 
The mower is equipped with 24HP Kohler 7000 twin-cylinder engine that provides enough power to propel the 54 inches larger 3 blades. And also for smooth cutting the mower has 9 height-changing options. 
On the other hand, the hydrostatics transmission system provides durability and control. Additionally, the high back seat with Turf master tires offers a smooth ride and helps to get rid of the back pain. 
Also, it doesn't matter if you're a short or tall or big person to work with it. It's easy to operate a 3-way adjustable lap bar that allows you to work more efficiently. 
Who Should Buy It: It's not only for your residential usage, people who want to start a lawn care business can also pick it. Because it's a commercial-grade engine able to do mowing jobs easily. 
---
What Makes Craftsman Lawn Mower Special?
Craftsman manufactures a range of power tools, lawn mowers, and outdoor gear. They are a sub-brand of sears, but today they are completely independent and produce some of the best mowers to assemble. The company started its journey in 1927. 
The craftsman lawn mowers are mainly produced in China, although some are manufactured in tawn and assembly by the USA. 
Craftsman are really the most powerful, reliable, and durable mower. 
Some key specs really make craftsman lawn mower special.
Powerful engine
Affordable price tag
Less vibrations
Long-lasting and durable
Versatile lawn mowing features
Some are good for old men and women
And the list goes on.
How did We pick?
Craftsman is one of the brands that seems like it never fails. From their long-lasting and gas-friendly (Self-propelled, push, riding, zero-turn riding) mowers, the company continues to leave its mark on the market that they compete in. 
For this guide, we are simply sorted through all of the most popular models of craftsman lawn mowers. But the task is not easy, we rinse and repeat a couple of times. And finally ended up with is 4 of the best craftsman mowers for homeowners to lawn care specialists just you like.
FAQ: The Best Craftsman Lawn Mower
Are Craftsman lawn mowers good quality?
Craftsman is a brand of equipment manufactured by Sears Holdings Corporation for outdoor power equipment. Sales of their lawn mowers topped $1 billion in 2009. Craftsman is an American-owned company that sells both home and outdoor products through the Sears catalog, online, its website, and retail outlets. Its lawn mowers can be found at over 1,800 stores nationwide.
Are Troy-Bilt and Craftsman the same?
Troy-Bilt and Craftsman are both considered to be high quality brands of lawn mowers, but they differ in many ways. Troy-Bilt is more expensive than Craftsman, but the price is worth the difference in performance. Craftsman has become popular due to their low prices, but consumers often complain about the short life span of the product. A third brand, Husqvarna, is also high quality and has competitive prices.
How much does a Craftsman mower cost?
A Craftsman mower is a lawn care equipment that is designed for cutting grass. The cost of a mower depends on the size of the mower and the type of lawn it is used on. A small mower can cost anywhere from $150 to over $1000, while a large mower could be as much as $5000. Larger or more popular brands tend to charge higher prices, while some brands offer discounts during certain times of the year.
How long does a Craftsman lawn mower last?
On average, you can expect a craftsman to work for around 3-4 years or so before it becomes unsafe to use or simply no longer cuts grass as well as it once did.
Picking The Best Craftsman Lawn Mower For You
After researching lots of hours our top pick Craftsman M250. The mower has a powerful engine, self-propelled drive system, and superior grass management system that mower makes this mower value for the money. 
Overall the machine is great for small to medium works. But we are not suggesting you for using it for commercial purposes. If you want to start a lawn care business then go with ZTR Z5800. 
Remember that choosing a lawn mower is not rocket science. For it, you should know your need, budget, and lawn type. 
Hopefully, our guide helps you to narrow down your selection and makes the best purchase possible.