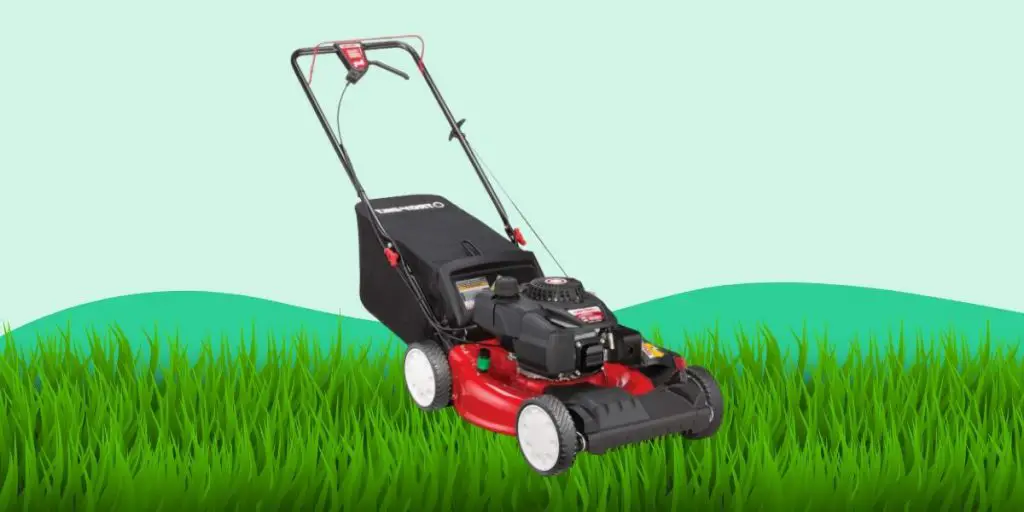 Troy-Bilt TB220 159cc 21-Inch is High Wheel Self-Propelled, Lawn Mower. It is budget-friendly and also perfect for small to medium yards.
We want to see a beautiful yard but are tired of using old techniques for cleaning your yard. Now we need a perfect lawnmower that cleans our yard with a few simple steps.
Well here is the Troy-Bilt TB220 159cc 21-Inch FWD High Wheel Self-Propelled Lawn Mower, which provides maximum cutting power and makes your yards neat and clean.
A Short Overview Of Troy-Bilt Manufacturer
The Troy-Bilt lawn mowers are manufactured by MTD Products. MTD Products is an American outdoor power equipment manufacturer company. The company was founded in 1932. The company's main goal is to make reliable and powerful products for the outdoors and see the smiling face of every American homeowner.
In this article, I will review Troy-Bilt TB220 and tell you its specifications, features, what's good, what's bad, and why you should buy this model and why you shouldn't.
So, let's dive into the review.
Troy-Bilt TB220 159cc 21-Inch Self-Propelled Lawn Mower Review 2022
Troy-Bilt TB220 is a self-propelled lawn mower and it is perfect for small to medium-sized yards. This mower offers a very lightweight design with high cutting power.
This mower is powered by a 159cc Front Wheel Drive OHV engine. Its Front-wheel design and comfortable grip handle provide you more confident handling and traction for tough terrain.
A 21-inch cutting deck made of steel and its dual-lever height adjustment allows you to cut the grass to a different level.
This mower comes with a 3-in-1 design that allows you to mulch, bagging, or using side discharge also it has a 1-bushel grass catcher. Also, it is equipped with a Tri-action cutting system engineered to deliver a clean, even cut in just one pass.
Troy-Bilt TB220 Features
Assemble
The Troy-Bilt TB220 mower comes pre-assembled. It takes only 10-15 minutes to assemble the mower. All kinds of parts are shipped with the mower box. You just assemble the handle and attach the grass catcher. If you want, you can also adjust your cutting height.
159cc Front-Wheel Drive OHV Honda Engine
Troy-Bilt TB220 is powered by a reliable 159cc OHV engine. The engine is made by HONDA. It is one of the most popular engines for durability and longevity, also it is the most powerful lawn mower engine.
This engine starts every time on the first pull and provides enough power every time to cut the grass. The 159cc has sufficient power to drive the mower and cut the grass quickly.
21-inch steel deck
The TB220 has a durable 21-inch steel deck and it features a dual lever height adjustment. The mower cutting height settings range from 1.25-3.75" inch and the dual-lever height adjustment setting allows you to change 6 position cutting height.
The best feature of this mower is it is equipped with a Triaction cutting system. It's engineered to deliver a clean cut.
Comfortable Handle
The handle grip is so much more comfortable and it provides more confident handling and traction for any terrain or uneven ground.
3-in-1 Mulching Capabilities

The TB200 combined with a "3-in1" feature, which allows grass to be stored in the rear bag, emitted through the side discharge space, or mulched.
Also, this mower has a 1 brushless grass catcher.

A grass catcher is attached to the back of the lawn mower and it is used to collect the grass clipping instead of leaving them laying on the lawn. The grass catcher is easy to attach and empty.
When it comes to mulching, its tri-cutting system cut every type of grass equally and spread out the grass properly on the lawn.
Wheels
The TB-220 is an FWD (Front wheels drive) mower. The mower is designed with 8×8-inch front and rear wheels that are easy to maneuver. Sometimes the FWD drive system is good for level terrain. Although the drive wheels are in front, the FWD drive allows you to tip up and turn the mower more easily than some other drive systems.
Warranty
Troy-Bilt offers a 2-year limited warranty on the TB220. The limited warranty means they provide a specific part warranty based on conditions.
Specifications
| | |
| --- | --- |
| Manufacture | MTD Products |
| Model Number | TB220 |
| Dimensions | 36.7 x 24 x 17.8 inches |
| Weight | 79.5 pounds |
| Shipping Weight | 79.5 pounds |
The Troy-Bilt TB220 Overall Performance
In my research TB-220 is an excellent mower. It did perform very well in every mowing condition. During my operation time, I can not find any major drawbacks.
Cut Quality
It's 21 inches wide cutting path cuts the decent amount of grass on each pass. Its tri-cutting technology helps to cut the on the dump condition, also it performs super well on the dry condition.
Grass management
The TB-220 features 3-in-1 ability. Its tri-cut technology cuts the grass equally and it's helpful in mulching time. On the other hand, the grass catcher is very easy to attach and grass off. But the drawback is its small size. It fills up quickly.
Maneuver – TB-220 is an FWD mower. But the FWD drive system, it's not comfortable on the terrains. When you push on the hilly yard the front wheels little rise and lose a little traction.
Its speed control feature allows controlling the mower speed. If you are a beginner then never use this mower faster.
Ease of Operation
The TB-220 is a user-friendly mower and starts every time with a press button. Its super comfortable handle grip helps to control and operate the mower.
Safety Tips
Before choosing a mower, we need to ensure safety first. So what kind of defense measures should we take? I add a few tips that ensure safety
Always read the mower manual information.
Never allow the 14 years child to mow the yard.
Before starting the mower, inspect the garden area and remove all kinds of stone and hard obstacles from the yard.
Never remove the gas cap or add fuel when the engine is hot or running.
If gasoline is slipped on the engine, wipe it with a dry cloth and wait 5 minutes before the starting engine.
Maintenance Of Troy-Bilt TB-220
Generally, the gas mower is pretty much harder to maintain than an electric mower, especially when it comes to changing oil and gas. Unlike the other mowers, for TB-220 you need to be brought for servicing and tune-up at least once a year to ensure that it keeps working in optimal conditions.
Some advantage maintenance tips for TB-220 including below;
Never tip the mower more than 90º in any direction and do not leave the mower tipped for any length of time. Oil can drain into the upper part of the engine causing a starting problem.
Maintain the oil levels.
Clean or replace the spark plug and reset the gap at the start of each mowing season.
On the engine area never use water, wipe on it with a dry cloth and always remove all grass, dirt, and combustible debris from the muffler area.
Change the oil every 25 hours of use.
Always use a sharp blade.
Before storing the mower, drain the gas and oil and make sure that the storage place is dry and clean. Also, use a mower cover. The mower cover prevents the mower from the dust.
Cost-Effectiveness
Among the gas-powered mowers, TB-220 is a little bit higher pricy mower. Moreover, you have to spend some money on maintenance every year. Conversely, the gas-powered mower has enough power to cut the grass and tackle every toughest job than the electric mower. With proper maintenance, it offers value for money. Also if you have a budget range, I recommend you go with Lawn-Boy 17734. It's an electric mower and best for small lawns.
What In The Box
• Lawn Mower
• Grass Catcher
• Side Discharge Chute
• Cable Clips
• Electric Start Push Key
• Oil
• Lawn Mower Operator's Manual
• Engine Operator's Manual
• Parts/Warranty Document
• Fast Start Guide
Conclusion of Troy-Bilt TB220 Review – Who Should Buy This Mower?
The TB-220 is ideal for small to medium-sized flat lawns. But if you have hilly yards then don't buy it. It is one of the most powerful gas mowers. It tackles the toughest mowing job. If you are looking for a powerful gas-powered mower, consider this model.