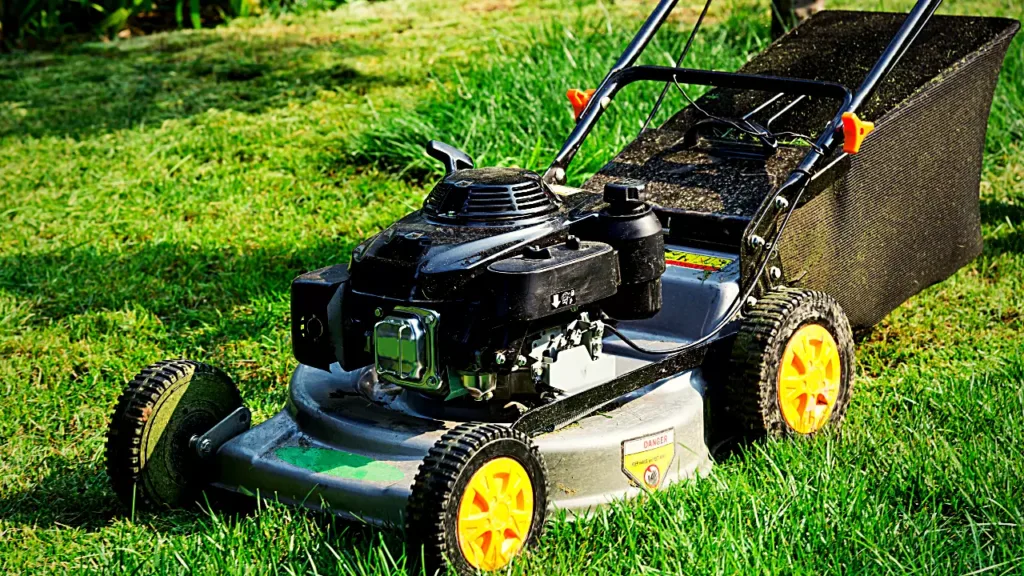 This is our review of the best electric start gas lawn mower in 2022. 
After gathering 13 lawn mowers and testing a couple of days Toro Recycler is the winner of our lawn mower list. 
Because of its features (auto-drive system, vortex technology, deck wash port, ready to start) and affordable price tag.
I am Mohammad Sojib, working as a garden expert for the past couple of years. Since my childhood, I have loved making gardens and sharing tips with my friends. 
However, there are lots of types of lawn mowers available on the market and it's hard to choose if you don't know about them. 
That's why here I'm and write an in-depth review only for you.
Let's get started…
Top 5 Best Electric Start Gas Lawn Mowers Reviewed
Now we are to the most interesting part of this article, where I will give you a detailed review of the 5 best electric start gas lawn mowers that fit all sizes and types of the yard. 
Not only the reviews but also I will provide highlighted features, specifications, and pros and cons. 
This way you can quickly compare between the different models and easily make the final purchasing decision. 
Ok, Let's dive into the detailed mower reviews.
1. Toro Recycler 22 in. Briggs & Stratton Personal Pace.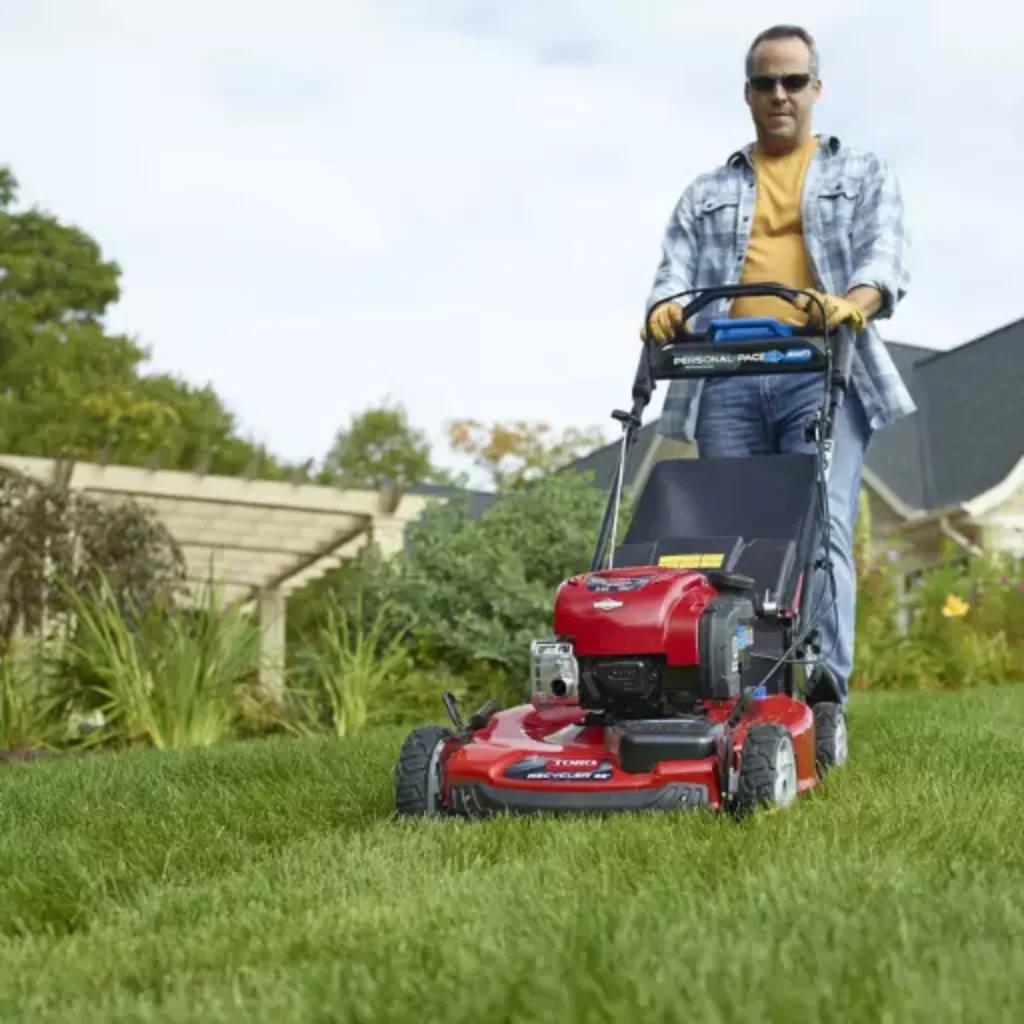 Auto Drive (Self-propelled): No height change, no need to push, drive automatically
Vortex Technology: Offer more airflow, cutting your grass into clumps clippings and helps to fertilize your lawn 
Toro's SmartStow: Another name for the foldable handle that allows setting the height in two unique positions. This feature saves up to 70% garage storage. Along with allows to store mowers in a tiny space.
Ready Start: No need to prime the auto choke. Press the power button and it will start automatically.
Deck wash port: Automatic deck system, it's allowed to wash mower deck with a garden hose.
Best for: Up to 1 acre (Overall)
Toro Recycler Personal Space is a self-propelled lawn mower. And it's an auto-drive system suitable for a young to 70+-year-old man. We are in love with its superior performance. Over 4000 customers gave a 4.2 rating out of 5 stars on Home Depot, making it the most trustable lawn mower in the USA. 
After working lots of hours, this mower fully meets all our criteria like cut quality, grass management system, and compare performance between flat and hilly (terrain), though we found some drawbacks, these are not major. 
The 22 inches stumped 14 gauge steel deck is hard to break in soil or tree clumps and it saves lots of time. Its 150cc engine provides enough power to cut the grass efficiently. But it didn't perform well on the tall grass.
So, if your lawn's grass grows quickly then we strongly recommend you set the height cutting height and mow your lawn two times. 
However, it's a rear-wheel-drive (RWD) mower and the RWD drive system provides better traction on the flat or sloped. But the drawback is, plastic-made wheels that sometimes lose traction on large slopes. But not to worry, if your lawn has small flat slopes of flat you can easily avoid it. 
Well, for better grass management the TORO offers 3 in 1 versatility whether it's reducing clumps and adding natural nutrients with the mulching, a clean look with bagging and for the thick grass it offers side discharge.
Long story short, it's the most reliable lawn mower that offers lots of features price-on-demand. So, if you have up to 1/2 acres of lawns with medium slopes, I will encourage you to go with it.
---
2. Honda HRX NeXite HRX217HZA Review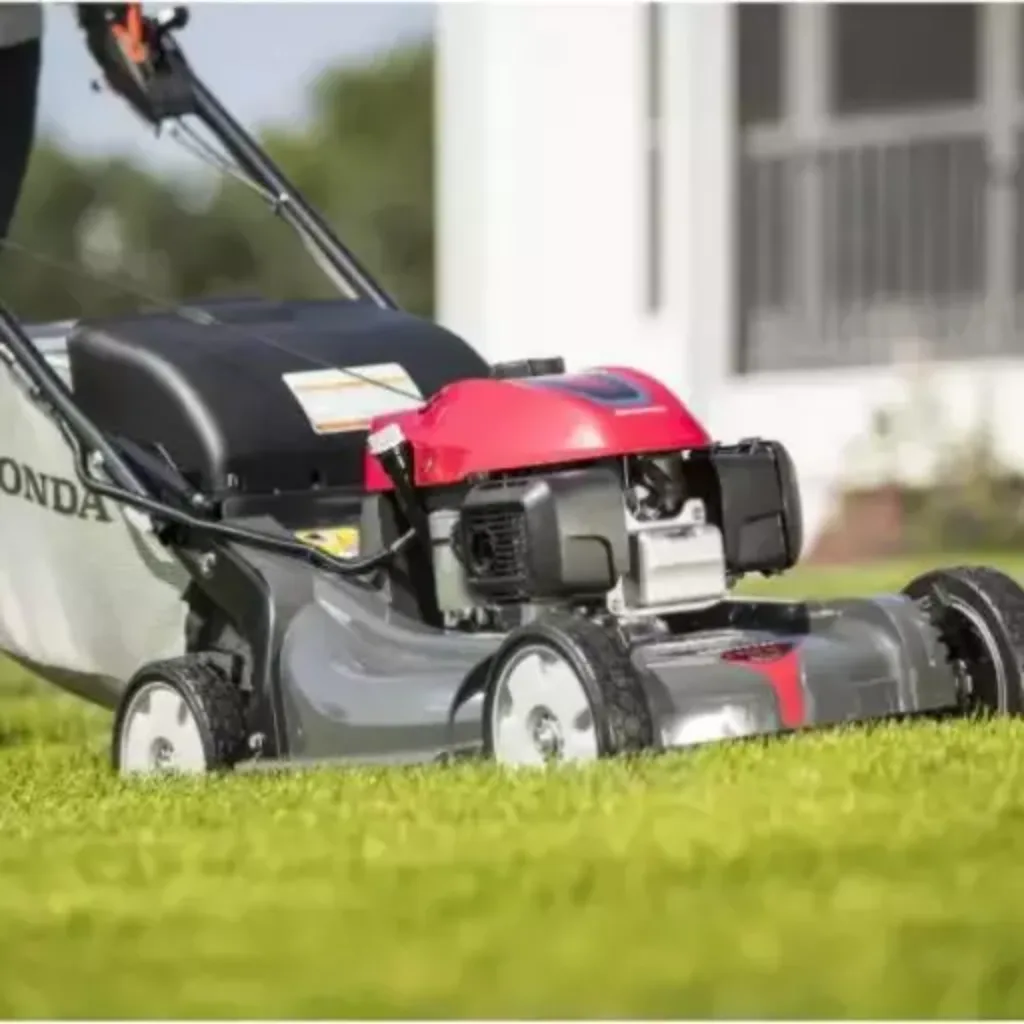 NeXite Deck: NeXite deck is made from an extremely durable polymer material. It has similar strength and impacts resistance to polymer materials commonly found in football helmets and car bumpers, etc. Honda uses this for making the mower lightweight besides durable. 
Micro-Cut Twin Blades: Dual blade and the micro-cut features that allow it to cut grass at any height. 
Leaf Shredding: Directly helps to produce leaf mulch or compost on the soil. 
Hydrostatic Cruise Control: Generally cruise control system allows you to control the mower from 0 to 4 MPH. Also, it can help you adjust the speed based on mowing conditions. Prominent features for old men/women.
Roto stop: Stop the blade propelling while the mower engine is running. Outstanding features from when you move the mower from one place to another. 
Best for: 1/2 to 1acre
The Honda HRX217HZA is the most premium and pricey lawn mower on our list. All kinds of the latest technology used in this mower save and make mowing time much easier than before. Over 112 customers gave a 4.8 rating out of 5 stars on Home Depot, making it the most premium lawn mower in the USA. 
Its rear-wheel drive (RWD) lawn mower which features the most powerful GCV200 engine which delivers high performance and efficiency on any type of yard. 
However, the ball-bearing wheels offer better traction and maneuverability on flat soil of every ground. Also, the machine performed well on the larger slopes. 
Also, with cut quality the 21 inches, micro-cut twin blades tackle all kinds of the toughest mowing jobs. Also, it features a roto stop functionality that allows it to stop the blade while the engine is running. 
Additionally, the hydrostatic cruise control system offers to adjust the mower speed depending on your walking speed. 
For ensuring durability and making it lightweight, Honda uses a NeXite deck. For better grass management honda offers a 4 in 1 versamow system with a clip detector. The versamow allows you mulching, bagging, side discharge, and leaf shredding. It does not satisfy us with its mulching capability. But thanks to leaf shredding. It allows the production of leaf mulch.
Also, this mower comes with 3 positions quick release adjustable handles. So if you're a tall person, don't worry about back pain. 
Overall, it's the great mower for price on demand. It fits all sizes and types of lawn types. Also, for ensuring longevity Honda offers a 5-year mower warranty. 
If we sum this review, then I'd love to suggest that you, if your budget is high and looking for the most premium lawnmower with robust performance, then I will encourage you to purchase this one.
---
3. Yard Force YF22ESSPV Review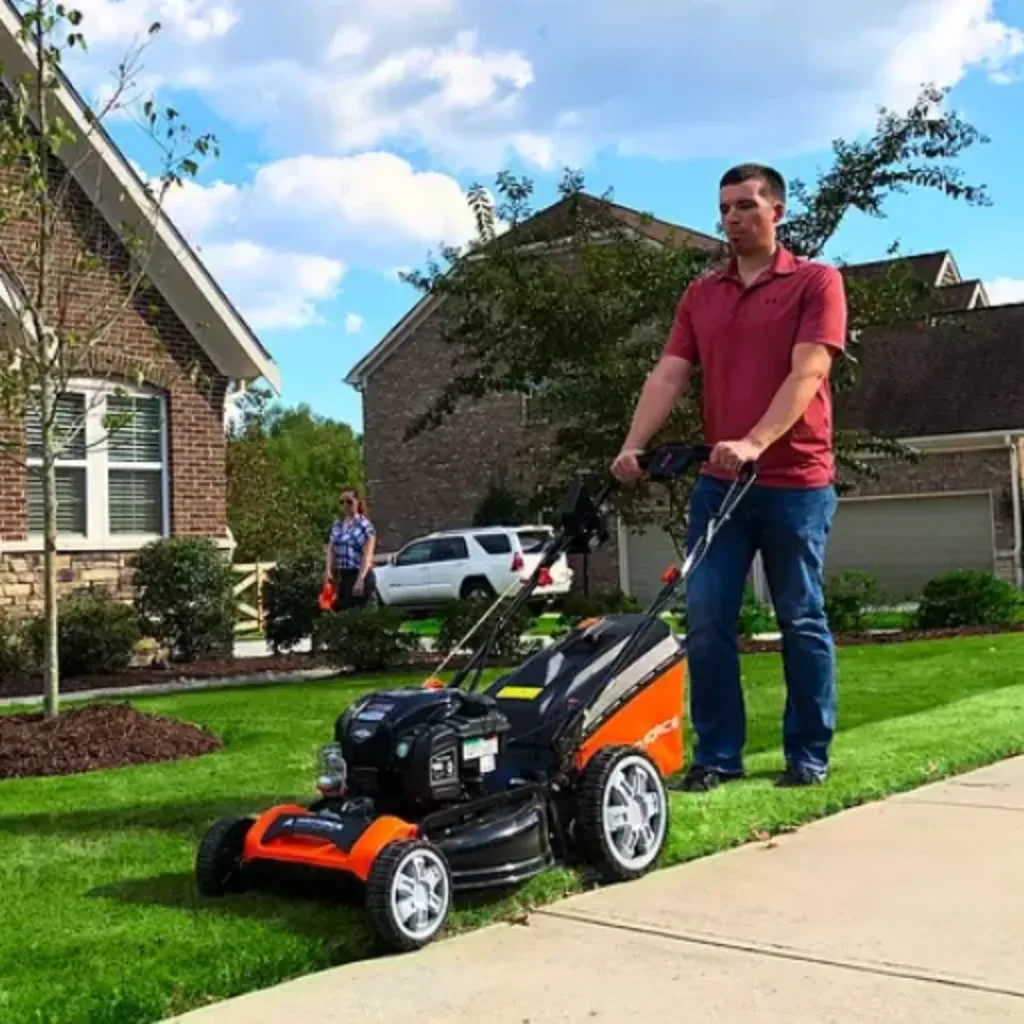 ReadyStart: No prime or choke or turn pull cord. Just press the power button and it's start working
20V 1.5 Ah battery: Using for electric start. And it comes with a charger.
Deck Wash Port: Allows to wash mower deck, by using the garden hoses reel.
Variable speed: Adjust the mower speed based on your walking speed.
Hybrid Grass Bag: Wide open mouth than the general grass bagger.
Best for: 1/2 to 1 acre
Yard Force YF22ESSPV is the latest lawn mower in the market that comes at a reasonable price. Yard Force is a reliable band in the USA. 
Before choosing any mower, we are trying to see their positive and negative reviews.
If we look at the home depot, it gets 20 reviews where 12 people gave 5-star ratings. Impressive. 
Its rear-wheel drive (RWD) self-propelled lawn mower which features a 163cc Briggs & Stratton engine. This powerful gas engine always provides enough power to drive on the slopes and tackle the toughest mowing job.
The 12 in. Rear/8-inch front wheels are PVC wrapped. PVC meets the soils and provides better traction in the flat or large lawn slopes.
Moreover, it offers variable speed control features that allow adjusting the mower speed based on the walking speed. Unlike the other gas mowers, it's very easy to maintain and operate. But the drawback sometimes is to make fewer fumes.
With the grass, its 21 inches 7 position height setting deck allows to cut the grass into the different levels and provides a nice and clean appearance 
For better grass management it has a 3 in 1 function. Its bagging (2 Brussel hybrid grass badger ) and mulching plug are so convenient and easy to attach and detach. Also, if your lawn has thick grass, then we suggest using side discharge. 
As a bonus kit, the yard force provides a 20 Volt blower-sweeper in the box. It's good for normal tasks. 
After testing all the criteria, truly it's a great mower. And also like the other mower, the Yard force also provides a 2-year warranty on the engine and chassis that make this mower more reliable. 
So if you have a medium budget and are looking for an electric start gas self-propelled lawn mower, hopefully, it meets all criteria.
---
4. CRAFTSMAN M270 Reviews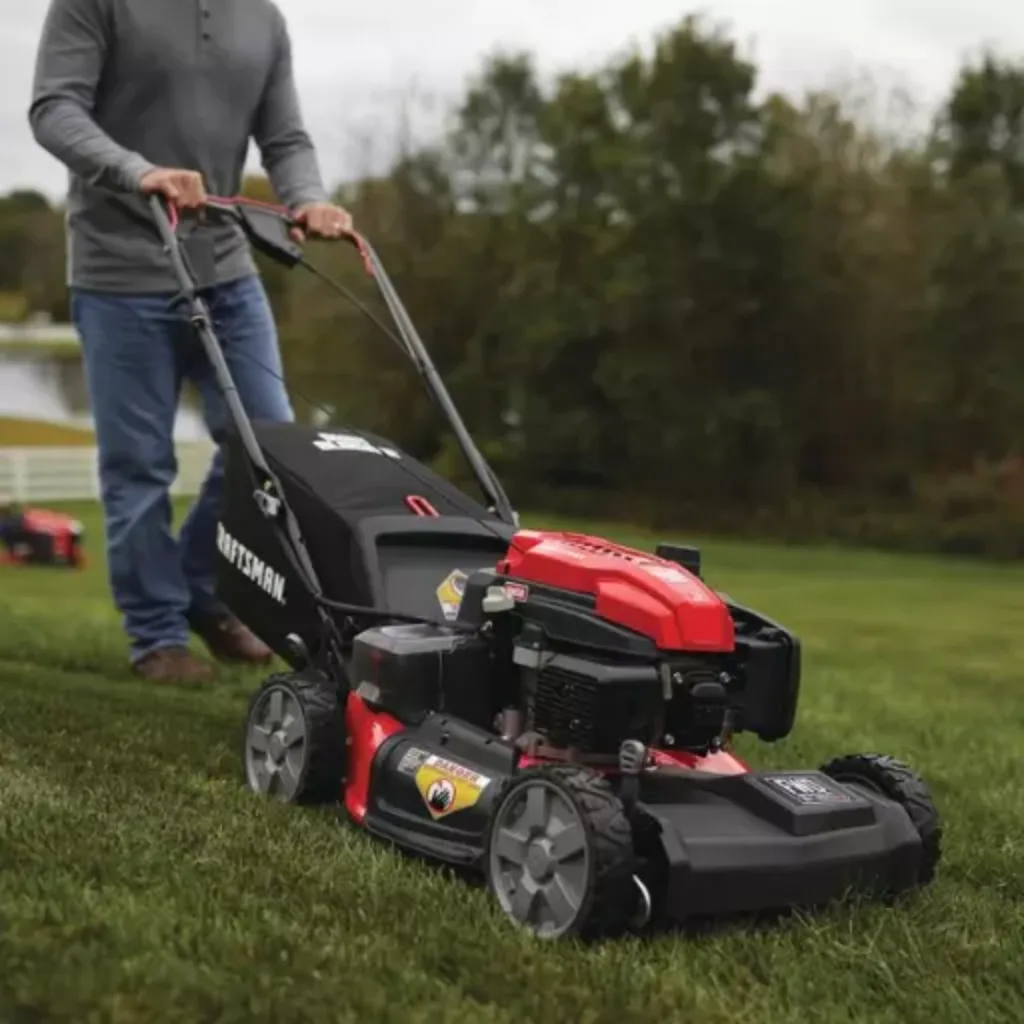 FWD: Front wheel drive lawn mower.Good for flat lawn. 
Automatic Choke: It automatically sets the choke to give optimum starting and running in all conditions. 
1.9 Bushel Dust Blocker Bag: 1.9 bushel equal to 25 lbs. It reduces in the air dust and debris while collecting grass clippings for easy clean up or composting. 
V20 battery: It allows you to start the mower by pressing the push button
Deck Wash Port: Connect to the garden hostess reel, it automatically clean the mower deck. 
Best for: 1/2 to 1 acre flat lawn
Starting with a online reviews of this craftsman m270 lawn mower
My daughter bought this last year. She let me try it last weekend. Im 65, have trouble walking to mow my whole front yard with a small hill on the corner. Loved the push start. The self-propelled helped me mow my whole yard by myself! I needed this mower! Really disappointed to find I can not find this mower anywhere!! 🙁
I found it on the Lowes. Over 243 customers gave a 4.1 rating out of 5 stars on Lowes, making it the best lawn mower in the USA. 
It's a self-propelled lawn mower. So if you're an old man, don't worry about this weight. You just need to know how to control this mower. 
Featuring a reliable 159cc craftsman powerful engine that provides sufficient power to drive the mower and tackles the hardest mowing job. 
The mower has a 21-inch steel deck with dual lever 6 position height change that allows it to cut the grass 1.25-in. to 3.75-in.high
Also, it has a variable speed control feature that is very essential to begin a self-propelled lawn mower. 
On the other hand, the front-wheel-drive system performs well in the flat with obtsalace types of yards. But it didn't perform well on lawn slopes. It loses traction every time. 
Overall, it's a great mower, if you have flat lawns. Otherwise, if your lawn has large slopes, then we won't recommend it.
---
5. Dewalt DW33 Lawn Mower Review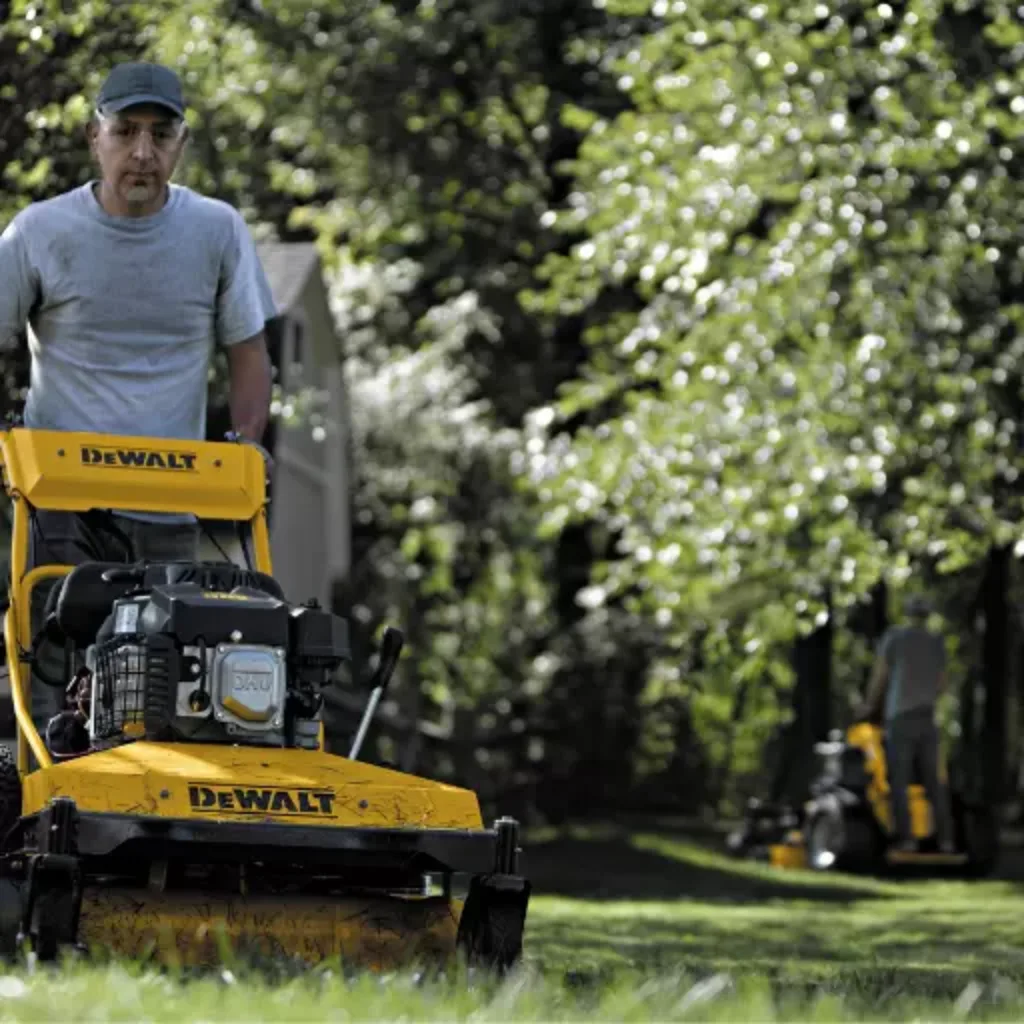 High-lift Marbain(R) blade: Create more airflow, and it's incomparable wear resistance
Ergonomic Pistol Grips: Hold your hand in a good position.
Electric PTO Clutch Brake: Used to engage and disengage rotating blades on outdoor power equipment. 
Caster Front Wheel: Help to increase speed, straight line trachkings and also better cornering. It also increases the mower wheel's traction. 
Starting with its 33-inch mowing steel deck that saves up to 50% time than ever. This is a walk-behind lawn mower and specially made for commercial purposes.
The mower packs with a giant 382 cc power engine that provides consistent performance while the larger cutting deck cuts the grass enough on each pass.
On the other hand, its caster wheel provides better traction in any type of lawn, like flat, uneven, or slopes. Also, this mower performs well on the larger slopes. And also began a self-propelled lawn mower; it also has adjustable speed control features.
However, for increasing productivity the mower has 8 position height change settings with a single lever. The razor-sharp blade cuts any type of grass. And it can also cut the weeds. But I do not recommend you cut the weeds. It damages the blade's sharpness.
When it comes to grass management, this mower features mulch, bagging, and side discharge. Bagging is so convenient. It allows 2 gallons of grass at a time.
So if you're working on 1/2 or up to 1 acre of lawn you don't need to empty the bagger many times.
Overall, DeWalt DW33 is the best mower for these people who are too lazy to do their mowing job. And also if you want to start a lawn mowing business and are looking for a walk-behind lawn mower at a reasonable price, then I encourage you to purchase this mower.
---
Guide to Buying Best Electric Start Self Gas Lawn Mower
As we mention the 5 lawn mowers, all of them are worth buying based on your needs. But of course, you can not buy them all. It is time to make the right decision to save money. That is where this buying guide creates an image that helps to understand what's the best for you.
Here are all the important factors that you need to consider while you looking for an ideal mower:
Cost-effectiveness
As a garden expert, the lawn mower is an essential part of my life. If you maintain a garden or lawn, you should choose the right lawn mower that lasts at least 5 years plus. Some people are choosing the cheap lawn mower. They can not deliver high performance and also make noise that is so annoying. And sometimes neighbors are brothers at this lawn mower sound.
Before purchasing a mower, you should know all the features that meet your criteria and offer prices on demand. If it isn't then eliminate the mower from your list.
Long livity
You buy a lawn mower for 300 – 500 USD, and after using it for 1 year you have to go to customer care to repair your lawn mower.
In my experience I saw lots of people buying lawn mowers after a season of a few weeks. They are breaking the deck and the blades lose their sharpness.
So before choosing any mower, check
Build material
Wheels types
Deck
Blades
Handlebar
And motor
Inspect and research more about them.
In our review, we analyze all of those things and write an in-depth article. So don't worry.
Ease Of Use
As a gas mower, it requires maintenance every year for a long life. So the best thing is knowing the lawn mower maintenance.
See the mower design and operating system. If you think all of them are user friendly and safe for you, pick them.
Versatility
You can not do all the different lawn tasks with the lawn mower. But instead of different work, look at versatile elan mowing features like grass management features (3 in 1 or 4 in 1), variable speed, and different levels of height change. It will save time and effort.
Special Features
Here are some special features that you can look for
Variable speed control
Single level Cutting height adjustment
Electric starting battery 
Deck wash
Wheels
---
FAQs
Here are some answers to frequently asked questions about electric start gas lawn mowers.
Why You Should Consider a Gas-Powered Lawn Mower?
Aside from longevity, the gas mower is far better than an electric lawn mower. Also, they tackle every type of thought mowing job and provide robust performance. 
Do mower deck wash ports work
Yes. It works. 
A deck wash port helps to clean the lawn mower deck with a garden hose reel. If clean the mower deck from the grass clipping and other debris. 
Which is the best lawn mower for old men or women?
For old men or women, we recommend a self problem lawn mower that has a single lever height change and also a foldable handlebar.
Above we mention 5 different lawn mowers, so I would recommend that Toro is an excellent choice. Even so, you can consider other lawn mowers. 
Final Verdict: Best Electric Start Gas Lawn Mower
As we can see, all lawn mowers come and pack with distinct features and prices. After testing lots of hours we can suggest Toro personal space is the best electric start gas lawn mower that meets all our criteria at an affordable price range. 
But if you have more budget, then I will encourage you to choose Honda HRX. 
And also, hopefully, all of our lawn  mowers are great for those looking for the electric start gas lawn mower.