American Lawn Mower Company 50514
Best Overall
11 Amp 
Corded Electric
14 Inches 
5 Postions
Greenworks 25142
Best Buget
10 Amp 
Electric
16 Inch 
5 Postion
Greenworks LMF403
Premum Choice
40V brushless motor
Battery Powered
21 Inches 
7 Postions
This is our review of the best lightweight lawn mower in 2022.
The benefit of a lightweight lawn mower is it will save physical efforts, compact storage, easy to maneuver, easy to carry, provide excellent cut quality, best for women or old men.
But the disadvantage is it's not suitable for the larger and uneven grounds. Also if you have small and flat ground and don't like bulky design, this lightweight mower will be the best option for you.
So, if you're in a hurry see our short glance it will give you the best headshot.
Quick Summary: What are the Best Lightweight Lawn Mowers?
Among the thousand of the model the American Lawn Mower Company, 50514 is the winner of this list because it's super excellent cut quality and durability. It can easily tackle the toughest mowing job and its 14-inch cutting swath cuts the sufficient grass on each pass.
Besides, the Greenworks 25142 mower is the most popular budget-friendly option. Of course, it's durable and offers superior cut quality, and affordable.
You know, each product has its own advantages and disadvantages. Considering everything and save your precious time, in this section we will make it short and clear and add the most highlighted features for the 5 best lightweight lawn mowers of women and old men.
Best overall: American Lawn Mower Company 50514 14-Inch 11-Amp Corded Electric Lawn Mower, Black
"Durable, easy to control and maintained; only suitable for small lawns."
Best for Budget: Greenworks 10A 16″ Corded Mower, 25142
"Affordable; lightweight; environment-friendly; no battery or gas required; smooth operation and less noise."
Premium Choice: Greenworks 40V 21-Inch Cordless Brushless Self-Propelled Lawn Mower, 5.0Ah Battery, and Charger, LMF403
"Powerful brushless battery, durable, environment-friendly, easy to control and maneuver, Rear wheel drive for a better transmission; Best for small to mid-sized yards"
Best gas: PowerSmart Lawn Mower, 21-inch & 170CC, Gas Powered Self-propelled Lawn Mower with 4-Stroke Engine, 3-in-1 Gas Mower in Color Red/Black, 5 Adjustable Heights (1.2"-3.0"), DB2194SR-A
"Affordable; powerful; easy to maneuver, compact; durable and large cutting swath"
Best Electric: WORX WG751 40V 19" Cordless Lawn Mower, 2 Batteries & Charger Included, Black and Orange
"Best for 1/4 acre yard; superior mulching, easy to maneuver; eco-friendly"
Best Lightweight Lawn Mower – Comparison Chart
Before jumping into the main review of the 5 best lightweight lawn mowers, you should know each model's basic specification.
This can help you eliminate the machines that don't fit your priority and easily narrow down the wish list. You also short it out based on its most prominent features, durability, weight, and cut quality on each column.
[ninja_tables id="3075″]
Best Lightweight Lawn Mower Review
This could be the most expected part of this article, in which we will give you a detailed review of the best 8 lightweight lawn mowers for women and old men.
We will also provide you with key features, specifications, pros, and cons for each machine.
This way you can easily compare the different models and quickly make the final purchasing decision.
Best overall: American Lawn Mower Company 50514
Key Features
11-Amp battery-powered corded electric motor
Cutting height adjustment from 1″ to 2. 5″
2 in 1 rear discharge and mulching
16-gallon grass bag
Folding handle for compact storage
The American lawn mower company 50514 is affordable and only suitable for small lawns. It is equipped with an 11 amp electric motor. The motor has sufficient power to work on the residential small space.
It's a corded electric mower that is powered by an electric outlet. But the drawback is the machine manufacturer doesn't provide a power cord.
For it, 11 amp motor MowersLab suggested a 16 gauge extension cord for up to 100 feet lawns. If you want to use this in a mid-sized lawn, you create more electric power outlets.
However, the mower has a 14-inch cutting swath and offers single-lever 5 positions at different heights of cut from 1″ to 2. 5″.
For grass management, it features a 2 in 1 rear discharge and mulching system. The rear grass bagger has a 16-gallon grass catcher capability with a grass level indicator.
Lots of people complain to us, they feel back pain during their mowing time. But thanks to its foldable handle that allows you multiple handle height settings and reduces back pain.
It has a compact design for confident storage capacity. It saves upto 70 garage storage, and you can store any tiny place where you want.
Products Specs
| | |
| --- | --- |
| Brand | American Lawn Mower Company |
| Dimensions | 46 x 18.5 x 38 inches |
| Weight | 25.6 Pounds |
| Power Source | Corded Electric |
| Deck Size | 14 Inch |
| Cutting Option | 5 Position |
---
Best for Budget: Greenworks 10A 16″ Corded Mower, 25142 Review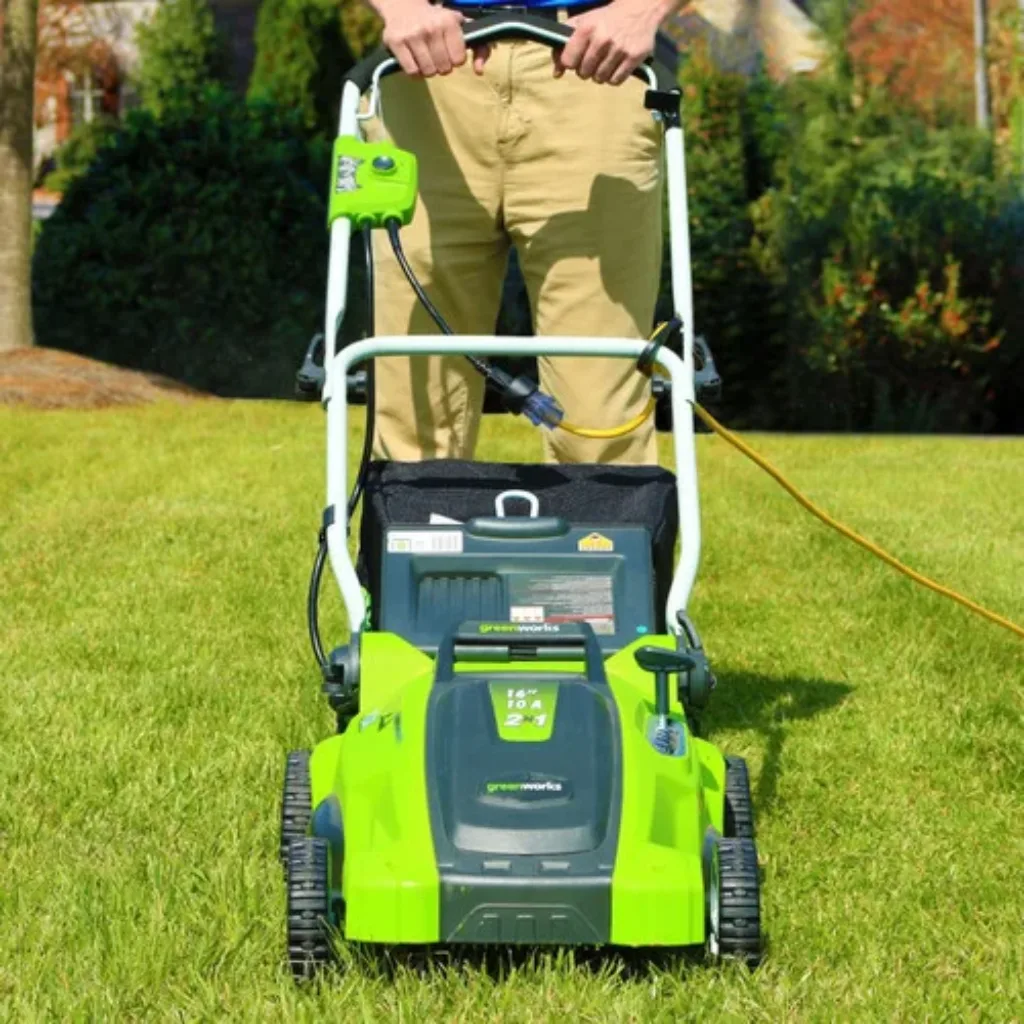 Key Features
10 Amp powerful battery
2 in 1 feature
Larger rear wheels
Maximum extension cord length 150 feet.
Introducing the GreenWorks 25142, 10AMP 16 inches corded mower that is best for small yards and offers unlimited running time. The 10A motor delivers enough power to cut the grass.
The 16-inch cutting swath cut the sufficient grass on each pass. Furthermore, the tool has a 5 position height of cut settings which allows cutting the grass from 5/8-Inch to 2-5/8-Inch height.
As a corded tool, it's powered by an electric cord extension. But the drawback is the machine did not come with an extension cord. For it, 10A motor mowerslab experts recommended 16 wire-rated gauge cord. You have to buy it separately.
For better grass management the tool features 2 in 1 function that allows switching between rear bagging and mulching. Being a plastic-made deck it has the excellent mulching capability.
If you're interested in mulching mowers check out this one.
However, its 7 inch rear and 6-inch front wheel provides better traction on the yard's slopes and is easy to maneuver.
The foldable handle provides the compact storage and saves upto 70% garage storage.
This corded machine offers unlimited running time with smooth operation and less noise. No battery or gas required. Easy to plug and go.
Also, for ensuring the longevity of the greenworks 4-year warranty. Moreover, the machine requires less maintenance. But the most recommended thing always to clean the mower deck and storage in a dry place.
Products Specs
| | |
| --- | --- |
| Brand | GreenWorks |
| Dimensions | 28.4 x 15.75 x 20.3 inches |
| Weight | 37.5 Pounds |
| Power Source | Electric |
| Deck Size | 16 Inch |
| Cutting Option | 5 Position |
---
Premium Choice: Greenworks LMF403 Review
Key Features
40V brushless motor
45 minutes running time with fully charged 5 Ah battery
21 inch larger steel deck
Self-propelled rear-wheel drive system
Dual battery port
Single lever 7 position height setting
Start with 5 Ah 40v brushless motor power that offers more torque, quiet operation, less noise, and longer life. The dural port battery design extends the runtime (upto 45 minutes). To recharge the battery fully it takes upto to 90 minutes.
Introducing its 21 inches larger cutting deck made by steel that offers single-lever 7 position height of cut settings,
The machine deck combined with 40v brushless motor power to tackle every tough condition.
The 3 in 1 design allows switching between mulching, bagging, and side discharge. In mulching time the razor-sharp blade cut the grass into finer pieces and spread out the grass behind the mower.
It is a self-propelled rear-wheel drive mower. Rear-wheel drive allows easy maneuvering on terrain.
It's equipped with an onboard battery life indicator. The battery level indicator informs about the battery life. Also, the universal battery has a convenient usb port for charging devices.
Furthermore, the machine has a 4-year warranty on the unit and a 2-year battery/charger.
Product Specs
| | |
| --- | --- |
| Brand | Greenworks |
| Dimensions | 65.35 x 21.65 x 33.07 inches |
| Weight | 21.6 Pounds |
| Power Source | Battery |
| Deck Size | 21 Inch |
| Cutting Option | 7 Position |
---
4. Best gas: PowerSmart DB2194SR-A Lawn Mower
Key Features
170cc OHV powerful 4 stroke gas engine
Air cooling system
Large steel cutting deck
Adjustable cutting deck
Larger wheel
18-gallon grass bag
Quick folding and tidily storage
Instead of picking honda or toro or troy bilt gas-powered mowers, we pick the PowerSmart because of its powerful 4 stroke engine, large cuttings depth, and reasonable price tag.
The mower packs a 170cc OHV powerful engine that makes enough power to propel blades and provide a superior clean cut. It has a 21-inch large cutting swath with 5 positing cutting height settings from 1.18 inch to 3.0 inch.
Besides, it's 3 in 1 design that allows excellent grass management systems. It1.4 bushel grass catcher is easy to attach and empty.
It is a self-propelled rear-wheel drive mower. The 8 inches larger rear wheel makes it easy to move and charge the cutting direction.
Previously gas mowers didn't come with a foldable design. They take enough storage in the garage.
But thanks to its compact and foldable design that saves lots of garage storage and allows to shorten any tiny place.
Overall it's a great tool at this price. For ensuring the product's quality, PowerSmart offers a 3 years warranty.
Products Specs
| | |
| --- | --- |
| Brand | PowerSmart |
| Dimensions | 33 x 23 x 18 inches |
| Weight | 76 Pounds |
| Power Source | Gas |
| Deck Size | 21 Inch |
| Cutting Option | 5 Position |
5. Best Electric: WORX WG751 Review
Key Features
40V powerful dual battery
Universal battery for Worx 20V and 40V tools
Premium mulching
Steel deck
Single lever height setting
Wrox is another player in our best lightweight mower list. The mower is powered by a 40v dual universal battery. The universal battery is comparable to Worx 20v or 40v tools.
It has a 19-inch cutting deck combined with the 40v battery power and gives a premium cut every time. It 3 in 1 design allows you mulching, bagging, side-discharge. Its grass collection bag holds 1.4 brushes cutting grass and also it is easy to empty or remove for side discharge.
Furthermore, its nutrient dual-stage mulching system offers superior mulching and helps to maintain a healthy lawn.
Its 10 inches larger wheels help to easily maneuver in the flat or any terrain. On the other hand, its lightweight design and collapsible allow it easy to carry and store in a tiny place.
Its durable steel cutting deck is dent resistant, and it's wide enough to cut the small lawn with fewer passes. Its single level 7 position height adjustment allows cut the grass in your recommended level.
Its dual battery power extends the run time and the onboard battery level indicator helps to see the existing battery life. Its fully charged dual battery can cut 1/4 acre yards with a single charge.
Products Specs
| | |
| --- | --- |
| Brand | Worx |
| Dimensions | 5.5 x 1.9 x 3.8 inches |
| Weight | 66.1 Pounds |
| Power Source | Battery |
| Deck Size | 20 Inches |
| Cutting Option | 7 Positions |
---
Best Lightweight Lawn Mower Buyer Guide: How to Choose the Right Mowers?
Before making the purchasing decision you might be getting confused to see the different types of lawn mower which offer pretty much the same specs and features.
However, we are homeowners and our yards are not the same. We do not recommend the same mower for the flat or uneven grounds. We have to consider lots of things picking the right tool.
So before choosing the right mower for your lawns please carefully read this section. In this section, mowerslab experts provide a detailed guide on how to choose the right lightweight lawn mower.
Things to consider while buying a Lawn Mower
The different types of lawn mowers come in various designs and use. Hence, people can clarify their needs before purchasing the right lightweight mower. Here are the few important things we are mentioned that you need to consider before buying one.
Let's dive into the give section:
Drive System: Push vs Self Propelled Transmission
There are two types of drive systems on our list (Push and self-driven).
Push Mower: Push mowers are a little cheaper than the self-propelled mower. They are lightweight and compact. For cutting the grass, you need to push it forward and it'll start working.
Furthermore, its price ranges between $100 – $400. If you have small lawns then go for it. But it is not ideal for mid or large-sized lawns.
Self-propelled Mower: Self-propelled mowers add some extra cost for their features and performance. They come with a bulky design and are a little heavier. For its self-driven transmission system weight doesn't matter. It's ideal for women and old men.
People are delighted to see the self-propelled lawn mower performance. The lawnmower price ranges between $300 – $800. The great advantage is it's suitable for all sizes and types of yards.
Lawn Size
The first thing you need to consider is the lawn size. If you have only less than 1/2 acre yards then a push mower is a perfect choice.
On the other hand, having the large yards it's challenging to mow the lawn with a push-driven system machine. It will take lots of time and physical effort. Even, during the summer mowing the larger with a self-driven mower might tire you.
Therefore, in the summer season, we recommend mowing the lawn in the afternoon.
Also, people who have larger lawns are recommended to go with riding mowers. Just sit on it and start the mowing job whenever you want.
Power Supply
When it comes to the power supply for your mower, either gas or electricity can be used. Both mowers have some advantages and disadvantages.
Electric mowers are less powerful than gas mowers. But electric mowers are more eco and budget-friendly than gas mowers.
Relatively the electric mower, the gas mower is long-lasting and able to tackle the tough mowing condition.
You need to consider other things when you choose the electric or gas-powered machine. The gas mower requires maintenance for ensuring long-lasting. Conversely, some of the electric mowers don't require maintenance. Just have to clean it before storing the mower in a dry place.
Deck Size
Deck size is nothing for the machine. Everything depends on the blade size.
The larger deck-sized men's wide blades swath. One of the major important factors to people the lagged deck-sized mower, it cut the more pass on each round. Also, it cut the mowing time.
Generally, the most deck size is 21 inches. But if you have small and decorated flower beds, rocks, and boulders the bigger deck makes it harder to mow.
In such a case a smaller deck can mow the yards easily.
Frequently Asked Questions
Can you clean electric lawn mowers?
Use a dry cloth to clean the electric mower. Never use the water for cleaning the electric mower. It will damage it. Just simply wipe dry up with the dry cloth on the mower and remove all debris.
What is the best lawn mower for an old man?
We recommend going with the self-driven mower for the old person. Because push mowers take physical effort and it's hard to mow the yards in the hot summer season. So if you are an old man based on the yards sized and types go with a self transmission mower.
How much should I spend on a lawn mower?
Generally, the lawn mower starting price is $100 – $3000 USD. But if you are looking to buy a lawnmower for residential usages, you should spend at least $300 – $700 USD.
Conclusion
With all reviews and buying guides and let me give you my personal choice for this list.
If you have a large-sized lawn then my personal choice is a PowerSmart 170cc gas power mower.
And my second choice will be you have a mid-sized lawn, the GreenWorks LMF403 is an ideal choice.
And also for the small-sized lawn, the American Lawn Mower Company 50514 will be the great pick.
Get one of those mowers from the list – trust me you won't regret it!