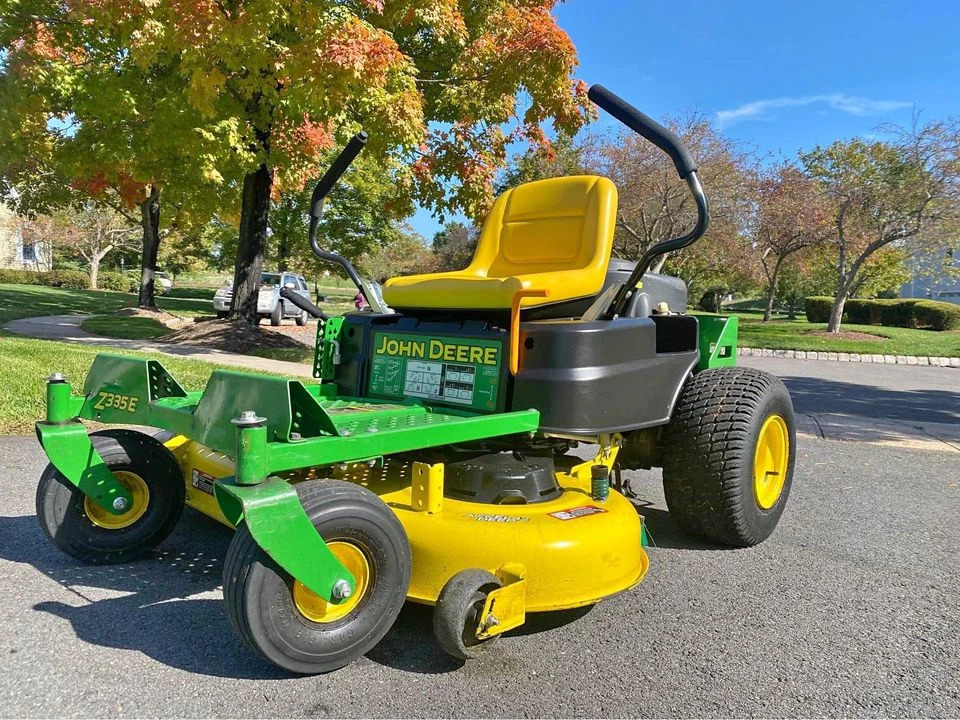 Explore the realm of compact yet powerful lawn care with our spotlight on the 9 Smallest Zero Turn Lawn Mowers that provide incredible value.
A zero-turn mower offers quick lawn coverage due to its zero-turn radius, wide deck, and high speed. According to Kris Kiser, CEO of OPEI, it's among the fastest options for large lawns.
Our tests of various mower types, including walk-behind, gas, electric, riding, and zero-turn, occurred in different yards nationwide. Mowers were assessed for setup, design, performance, usability, safety, and value.
Weather, lawn size, grass length, time, and obstacles were noted. We also conducted a three-month durability assessment, focusing on challenges with thicker grass and changing weather.
Our research led us to compile the best smaller zero-turn mowers for maintaining a great lawn.
Our Top Picks
---
Ryobi Ryrm8010: Efficiency in Every Pass for Small to Medium Yards – Master Your Half Acre
Scag Liberty Z: Unleash the Freedom of Precision Cutting on Yards Over 1 Acre – Where Size Meets Perfection
Revolt SD Residential Stand-On Zero Turn Lawn Mower: Stand Strong, Mow Swiftly – Conquer Yards Up to 1 Acre with Stand-On Innovation
John Deere Z370R Electric ZTR Mower: Whisper-Quiet Power Meets Precision for Medium Yards Up to 1 Acre – Green & Clean Mowing
Simplicity Courier™ Zero Turn Mower: Smooth Maneuvers, Exceptional Results for Yards Up to 1 Acre – Your Lawn, Simplified
Gravely Compact Pro: Compact Size, Commercial Power – Dominate Yards Up to 1.5 Acres with Ease
Cub Cadet Ultima ZT1 42: Precision Redefined, Your Ultimate ZTR Experience for Yards Up to 1 Acre – Unleash Perfection
Toro TimeCutter 75734: Time to Conquer, Minutes to Spare – Reclaim Your Day on Yards Up to 1.5 Acres
Husqvarna Z242F: Swift, Sleek, Superior – Elevate Your Mowing Game on Yards Up to 1 Acre
Ryobi Ryrm8010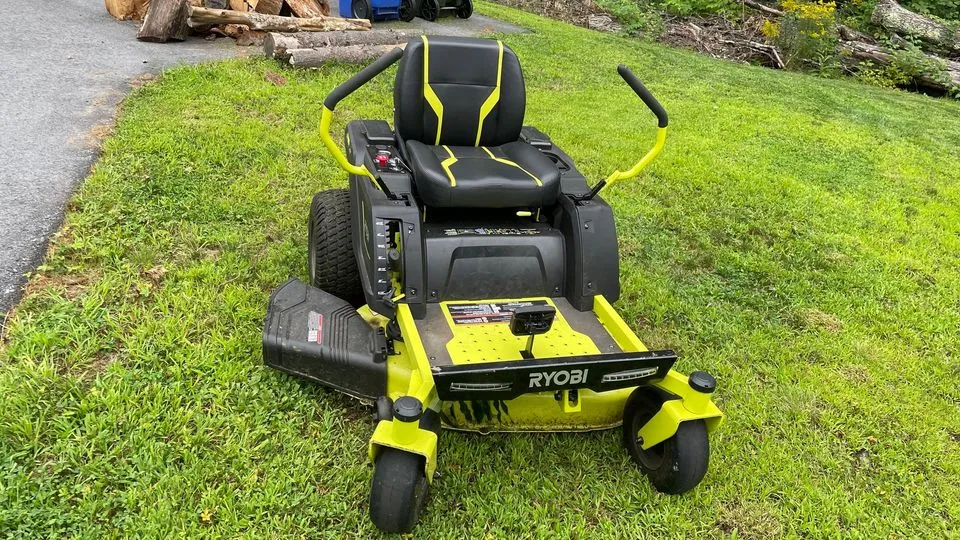 Ryobi Ryrm8010 Review
Summary
The Ryobi RYRM8010 lawnmower offers efficient mowing, covering up to 1 acre per charge and boasting 80V HP Technology for robust cutting power. Its precise steering, adjustable deck, and convenient features are strong points, though the swivel caster wheels could pose challenges on hills.
What We Like
Efficient Coverage: Covers up to 1 acre per charge with quick 1.5-hour recharging.
Powerful Performance: 80V HP Technology equals a 28hp gas engine's cutting power.
Precise Maneuvering: iDrive system ensures accurate steering around obstacles.
Customizable Cutting: 12-position deck adjustment for heights from 1.5″ to 4.5″.
Monitoring Made Easy: LCD display tracks runtime, battery life, speeds, and more.
Convenient Extras: USB socket, storage compartment, rear charging port.
What We Don't Like
Hill Traction: Swivel caster wheels might lack traction on hills, affecting stability.
As a meticulous homeowner with a smaller lawn, I embarked on a quest to find the perfect mower that could effortlessly tackle my grassy challenges. After extensive research and deliberation, I decided to invest in the Ryobi Ryrm8010 small zero-turn mower.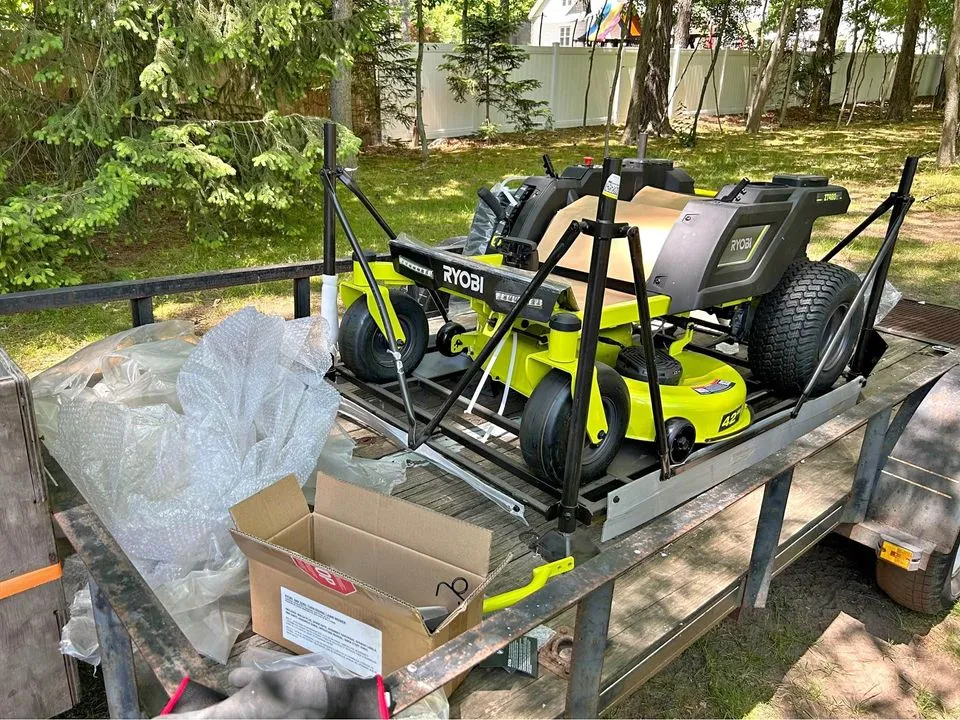 I've been using it for several months now, and I'm eager to share my in-depth user experience.
Powerful Engine Performance:
The heart of any mower lies in its engine, and the 24hp Briggs & Stratton engine in the Ryobi Ryrm8010 roars to life with an impressive vigor. This powerhouse engine defies its compact size, effectively mowing through stubborn grass and effortlessly conquering various terrains. Even in areas where the grass had grown particularly dense, the engine's torque remained consistent, delivering a uniform cut without straining.
Compact Design and Maneuverability:
The compact design of the Ryobi Ryrm8010 is a game-changer, allowing it to gracefully glide through tight spaces and navigate around obstacles that used to challenge my previous mower. Its zero-turn capability is truly remarkable; I found myself weaving around flower beds and trees with precision and finesse. This compact nature makes it an excellent choice for homeowners like me who have limited space to work with.
Ergonomic Comfort During Operation:
Ryobi's commitment to user comfort shines through in the Ryrm8010. The padded seat and armrests transform what used to be a chore into a comfortable and enjoyable experience. Long mowing sessions no longer leave me fatigued or sore. The adjustable steering column and control levers further contribute to the mower's ergonomic design, ensuring that users of varying heights can find their optimal working position.
Dual Hydrostatic Transmission Excellence:
The dual hydrostatic transmissions of the Ryobi Ryrm8010 provide unparalleled control over speed and direction. Each transmission operates independently, allowing for intricate maneuvers and swift navigation around curves and obstacles. This feature was particularly handy when mowing around intricate landscaping elements, saving me time and effort.
Versatility of Cutting Deck:
Equipped with a 42-inch cutting deck, the Ryobi Ryrm8010 boasts impressive versatility. The deck's ability to be adjusted to seven different height positions is a boon for those of us with varying grass types and terrains. This customization ensures a consistent and aesthetically pleasing lawn appearance, whether you prefer a neatly trimmed lawn or a slightly longer, natural look.
Low Maintenance and Cost-Effectiveness:
One of the most pleasant surprises has been the Ryobi Ryrm8010's low maintenance requirements. The inclusion of maintenance-free spindles and idler arm with sealed bearings has drastically reduced the time and effort I need to invest in upkeep. This not only saves me valuable time but also contributes to the mower's overall cost-effectiveness in the long run.
Bottom Line
In the grand symphony of lawn care, the Ryobi Ryrm8010 plays the role of a virtuoso performer. Its blend of power, maneuverability, comfort, and efficiency is harmonized in a symphony that transforms lawn maintenance into a gratifying endeavor. If you're a homeowner with a smaller lawn seeking an outstanding zero-turn mower, the Ryobi Ryrm8010 deserves your consideration. It has certainly earned its place as an indispensable tool in my lawn care arsenal.
After three additional months of testing this mower twice a week, it continues to maintain its top ranking. Its consistent, excellent cutting performance is noteworthy even under challenging conditions like thick, long, damp, or dry grass. Notably more efficient than a comparable-sized lawn tractor, it saves time and eliminates the hassle of gas fumes. With no reported issues regarding durability or appearance, this zero-turn mower appears to hold up well even after prolonged use. Despite being a splurge, the mower's performance and features justify its price.
How It Performed Long-Term
After an additional three months of rigorous testing, the Ryobi RYRM8010 lawnmower retains its top position. It consistently delivers flawless cuts, even through challenging grass conditions.
Its time efficiency surpasses that of our previous same-sized lawn tractor. The absence of gas fumes is a relief, especially in hot weather.
Impressively, its durability and appearance remain unaffected by extended use. In conclusion, the investment in this zero-turn mower is well justified for its exceptional performance and features.
Price at time of publishing: $5,999
Specs:
Power Type: Lithium batteries
Horsepower: Equivalent to 31 hp
Cutting Width: 30 inches
Weight: 700 pounds
Terrain: Flat with obstacles
scag liberty z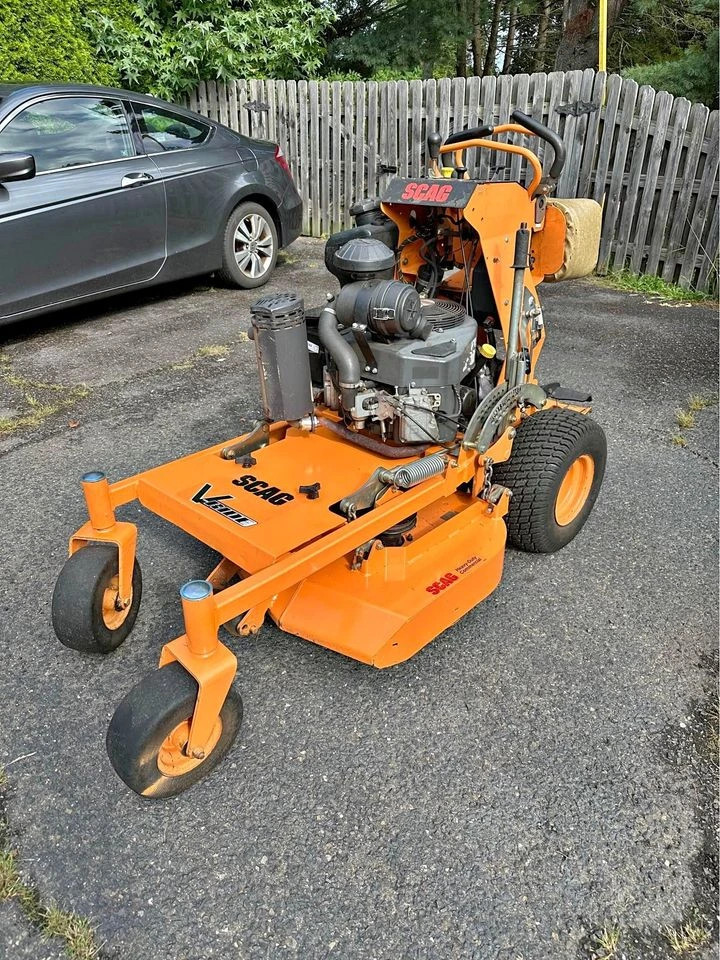 What We Like
Powerful Performance: Equipped with robust engines for consistent precision on tough terrain.
Exceptional Cut Quality: Unique deck design ensures immaculate lawns with minimal maintenance.
Durability Guaranteed: Fabricated deck and steel frame promise a long-lasting investment.
Enhanced Comfort: Upgraded seat design with armrests for comfortable extended mowing.
Stylish Aesthetics: Modern design and sleek color enhance visual appeal.
What We Don't Like
Higher Price Tag: Not the most budget-friendly option on the market.
Cut Quality Comparison: May not match the precision of Scag's commercial-grade Velocity deck.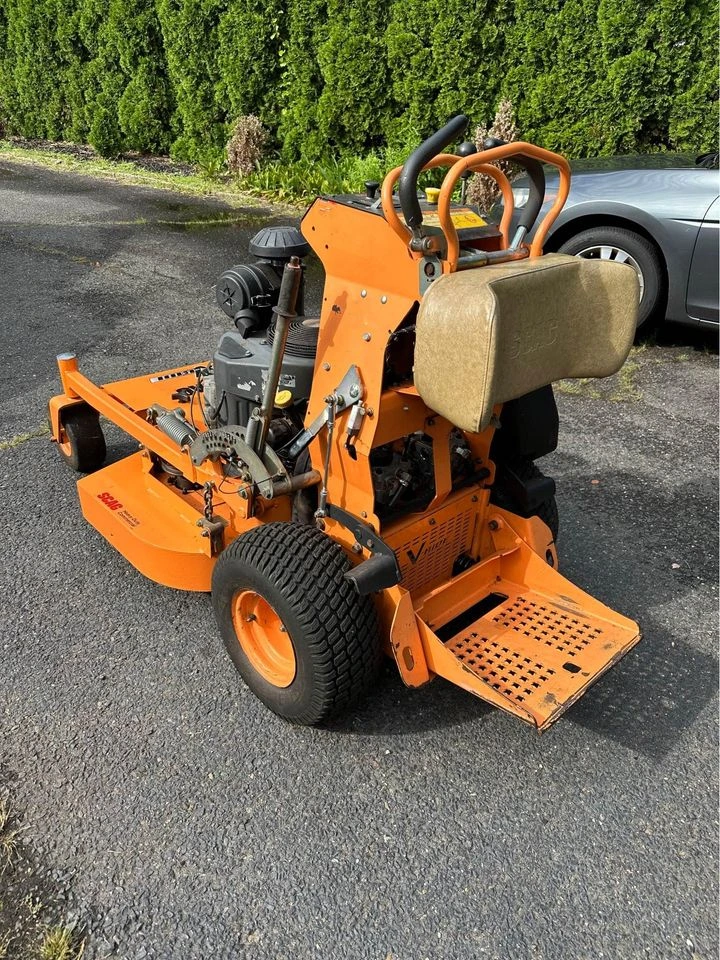 The unique cutter deck design consistently produces impeccable lawns. Sealed bearings enhance durability, reducing maintenance concerns. Effortless height adjustments from the seat add to the convenience.
Balancing Durability and Comfort
Durability is a highlight, thanks to the fully fabricated cutter deck and sturdy tubular steel frame. Comfort during extended mowing sessions is ensured with the upgraded contoured seat featuring armrests.
Budget and Quality Equilibrium
Though not the cheapest option, the Scag Liberty Z's power, longevity, and cutting quality justify the investment for medium-sized lawns.
The Flip Side: Drawbacks to Consider
However, the price might deter budget-conscious buyers. While cut quality is commendable, it may not match the precision of Scag's commercial-grade Velocity deck.
Bottom Line
In a nutshell, the Scag Liberty Z has been a positive addition to my lawn care routine. With remarkable performance, comfort, and durability, it's a solid choice for those seeking an upgrade. While not without its downsides, the overall benefits make it a worthy investment for a superior mowing experience.
Read more: Scag Mowers Prices
Revolt SD Residential Stand-On Zero Turn Lawn Mower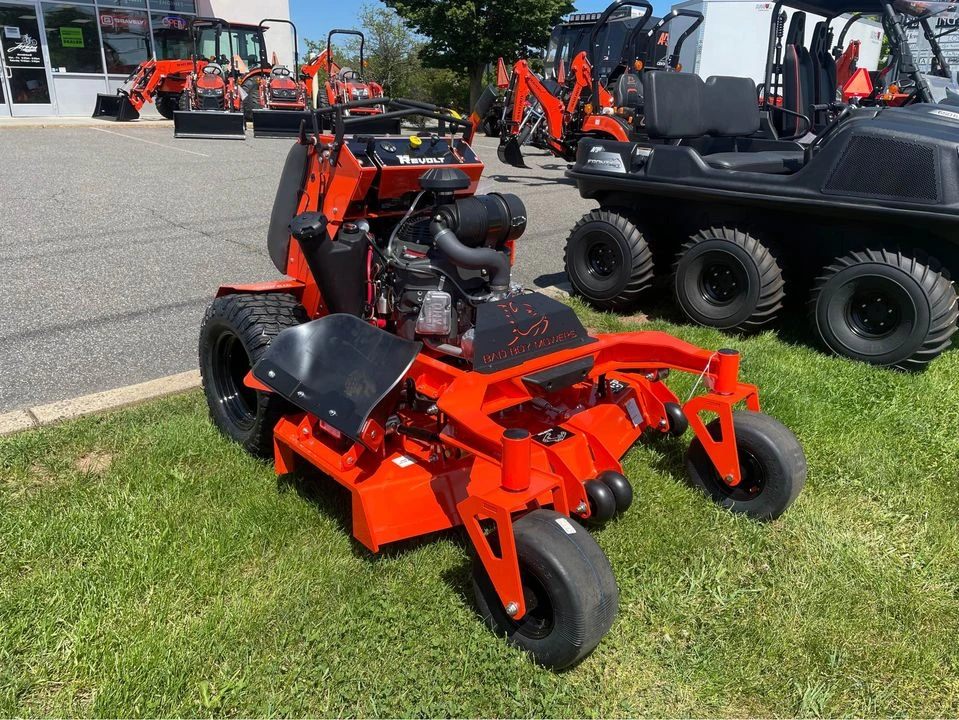 What We Like
Robust frame and modern design for enhanced durability and aesthetics.
Powerful 23.5 hp Kawasaki FX engine for efficient mowing performance.
Comfortable operation due to adjustable rubber suspension riding platform.
Exceptional handling with large rear tires for superior traction and ground clearance.
Good quality of cut facilitated by the 7-gauge sloped deck design.
Maneuverability improved by central fuel tank placement.
Competitive pricing starting at $6699 offers affordability.
What We Don't Like
Engine may struggle in challenging conditions.
Narrow deck exit chute could impact grass clippings discharge.
Long-term durability concerns with certain components.
Cut quality falls short of top competitors.
Smaller 6.5-gallon fuel tank compared to some rivals.
Limited advanced comfort features compared to competitors.
Deck construction slightly lags behind industry leaders.
The Bad Boy Revolt SD Residential Stand-On Zero Turn Lawn Mower stands out with its robust design and modern aesthetics. The bold orange and black color scheme catches the eye, while the sturdy frame, including the curved front fork support, adds a sense of durability. Impressively, the plastic components used feel substantial and well-made.
Power and Performance
Powered by a 23.5 hp Kawasaki FX engine, the Revolt provides sufficient power for typical mowing tasks. Under normal conditions, the engine performs admirably. However, when dealing with thicker or wet grass, I noticed occasional struggles, potentially due to the deck's narrow exit chute.
Cut Quality and Durability
The mower's 7-gauge sloped deck design contributes to a satisfactory cut quality. Grass is positioned upright before being cut, resulting in good results. Although it falls short of top-tier competitors, Revolt's cut quality remains commendable. Durability is promising, thanks to the robust body frame and high-performance Kawasaki engine. Some doubts persist about the long-term resilience of certain pivot points and deck adjustment mechanisms.
Comfort and Handling
The Revolt excels in comfort and handling. The adjustable rubber suspension riding platform ensures a comfortable experience during operation. The large rear tires provide exceptional traction and ground clearance, making it well-suited for uneven terrain. The included thigh pad adds to the comfort during extended mowing sessions. The central fuel tank placement enhances maneuverability.
Price and Value
Starting at $6699, the Bad Boy Revolt SD offers excellent value in the stand-on mower market. While it may have made compromises in certain areas to maintain affordability, its overall performance, features, and durability justify the cost.
Bottom Line
The Bad Boy Revolt SD Residential Stand-On Zero Turn Lawn Mower shines with its durability, power, and affordability. Though it may not match all aspects of its competitors, it presents a practical choice for homeowners seeking a dependable stand-on mower. If you're looking for a mower that delivers power, endurance, and value, the Revolt is certainly worth your consideration.
John Deere Z370R Electric ZTR Mower
What We Like
Ample Battery Power: Equipped with a robust 3.2 kWh battery, the Z370R offers prolonged mowing on a single charge.
Precision Cutting: Its 42-inch deck and adjustable cutting heights ensure precise and tailored lawn care.
Efficiency in Discharge: Prevents clogging and power waste with a smart discharge chute design.
User-Friendly Controls: An intuitive control panel with LCD screen makes operation straightforward.
Durability First: Sturdy steel frame and IP66-rated battery promise lasting performance.
Convenient Charging: Onboard charging via standard outlets simplifies recharging.
Speed and Precision: Offers 7 MPH forward speed and 3.5 MPH reverse for efficient mowing.
Warranty Assurance: Extensive warranties from John Deere provide confidence in your investment.
What We Don't Like
Initial Investment: The Z370R's price might be a concern for budget-conscious buyers.
Battery Limitations: Larger lawns could require multiple charging cycles to finish mowing.
Fixed Battery: Lack of portability with a non-removable battery affects charging flexibility.
Size and Weight: At 490 pounds and 75.4 inches, storage and maneuverability could be challenging.
Missing Professional Features: Some advanced features found in commercial mowers may not be included.
Electricity Dependency: Areas with unreliable power might face operational constraints.
Adaptation Needed: Switching from gas to electric may involve a learning curve.
As more lawn care companies venture into the electric market, John Deere has entered the scene with its Z370R Electric ZTrak mower, targeting homeowners. In this review, we explore the first-hand user experience of this battery-powered residential zero-turn mower and its impressive features.
Performance That Leaves a Lasting Impression
The Z370R's standout feature is its 42-inch mower deck, designed for exceptional cutting performance. The 4.97-inch deep deck includes a large discharge chute to prevent clippings from being recut, improving power efficiency. Users can choose cutting heights from 1.25 inches to 4.5 inches, with convenient 0.25-inch height increments, ensuring precise cuts.
The 3.2 kWh battery is a highlight of this electric mower. With up to 40% more capacity than competitors, it can efficiently mow lawns of up to 2 acres on a single charge. The Z370R boasts a forward travel speed of 7 MPH and 3.5 MPH in reverse, enhancing its efficiency and speed.
Crafted for Durability and User-Friendly Experience
The Z370R's construction emphasizes durability. The heavy-duty formed and welded steel frame balances strength with maneuverability, measuring 75.4 inches in length and weighing 490 pounds.
The battery system is designed for practicality, featuring an IP66 rating for water and dust resistance, ensuring reliable operation in various conditions. The rear battery cover adds extra protection, while onboard charging via an extension cord and a standard 110V grounded outlet simplifies the charging process.
The control panel, featuring a large LCD screen, enhances user experience by displaying essential information like battery levels and mowing modes.
Value That Speaks Volumes
Priced at $6,399, the John Deere Z370R Electric ZTrak mower offers homeowners a premium yet worthwhile investment. The mower comes with a 3-year/200-hour warranty, while the battery is covered by a generous 5-year/200-hour warranty, demonstrating John Deere's confidence in its electric offering.
Bottom Line
The John Deere Z370R Electric ZTrak mower could redefine residential lawn care. Its impressive performance, durability, and user-friendly design set a new standard for battery-powered zero-turn mowers. As John Deere's inaugural venture into the electric market, the Z370R has the potential to leave a lasting impact on homeowners seeking efficient and reliable lawn maintenance solutions.
Simplicity Courier™ Zero Turn Mower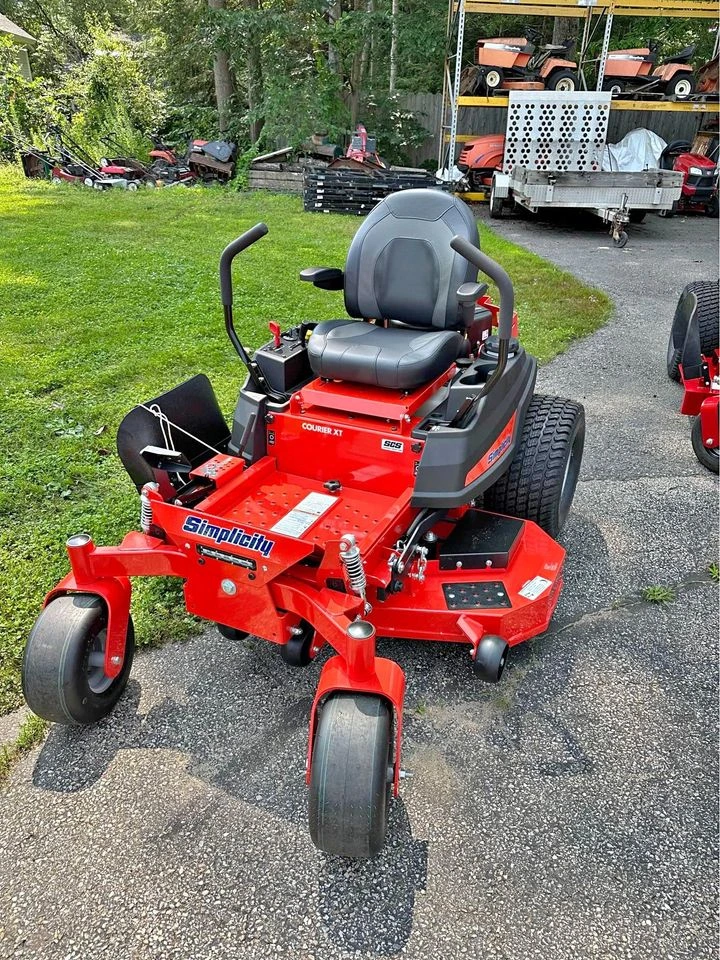 What We Like
Impressive Power: The mower's robust 23-horsepower Briggs & Stratton engine handles residential and commercial tasks effectively.
Comfortable Ride: Suspension system ensures a smooth, fatigue-reducing ride on uneven terrains.
Commercial-Grade Features: 48-inch deck and durable ball bearings ensure reliable, professional-level performance.
Convenient Cargo Space: Rear storage space minimizes trips, accommodating tools and supplies.
Budget-Friendly: Competitive pricing offers professional power without breaking the bank.
Maneuverability: Zero-turn capability enhances efficiency in tight spaces.
What We Don't Like
Limited Deck Size: 48-inch deck may be restrictive for larger areas.
Varied Warranty Terms: Warranty conditions may vary; review is essential.
For small lawn care businesses, the Simplicity 2691321 Courier Zero Turn Mower is a standout option, wielding the strength of a formidable 23-horsepower Briggs & Stratton engine. Despite its price range aligning closely with residential-grade mowers, this powerhouse is primed for the rigors of extensive commercial lawn jobs, delivering an unparalleled level of performance.
Smooth Ride
The Simplicity Courier Mower isn't just about raw power; it's also about a comfortable experience. During our comprehensive test drive, the suspension comfort system delivered on its promise, granting our team a plush and effortless ride, even across uneven terrains. This feature alone has the potential to transform long workdays into more manageable tasks, minimizing operator fatigue and boosting overall productivity.
Precision and Durability in Every Cut
Functionality is at the heart of the Simplicity Courier Mower's design. Equipped with a 48-inch deck and fortified with durable ball bearings, this machine seamlessly integrates commercial-grade performance into the realm of residential mowing. The impeccable precision of its cuts and the unwavering reliability of its components make it a smart investment for those who demand nothing less than excellence from their equipment.
Tools on the Go
In the hustle and bustle of demanding workdays, having ample storage space is a game-changer. The Simplicity Courier Mower shines here as well, offering rear cargo space that proved indispensable during our tests. This feature allowed us to transport an array of tools and supplies, eliminating the need for multiple trips back and forth. The convenience it adds to the overall workflow is truly noteworthy.
Competition on the Horizon
While the Simplicity Courier Mower shines bright, it's prudent to explore alternatives. The Husqvarna and Ariens brands present their own line of zero-turn mowers, offering potential competition. However, the Simplicity Courier Mower confidently holds its ground with a blend of power, comfort, and versatility that's hard to match.
Affordability and Agility
One of the most compelling aspects of the Simplicity Courier Mower is its price point. Despite its commercial-grade power and features, it manages to stay competitively priced alongside residential models. This sweet spot between quality and budget makes it an appealing choice for small-scale lawn care businesses. Its nimble maneuverability in tight outdoor spaces further solidifies its status as a top pick.
Deck Size and Warranty Considerations
However, no product is without its drawbacks. While the Simplicity Courier Mower's 48-inch deck is suitable for most tasks, it's worth noting that some models in the market offer larger cutting decks. Additionally, it's advisable to carefully review warranty terms and conditions, which can vary. Being informed about these aspects ensures a well-rounded decision.
Bottom Lie
In summation, the Simplicity 2691321 Courier Zero Turn Mower emerges as a compelling solution for small lawn care businesses. Its commanding engine, coupled with comfort-centric attributes and commercial-grade components, strikes a harmonious balance between power and user experience. With a tantalizing price tag that defies its capabilities, it confidently stakes its claim as a frontrunner in the world of zero-turn mowers.
Gravely Compact-Pro
What We Like
Enhanced Stability with Wider Tires: The addition of wider tires improves hillside stability and reduces rutting.
Exceptional Cut Quality: Precise and refined cut, potential for impressive lawn stripes.
Robust Engine Power: 15.5 HP engine exceeds expectations, offers reliable performance.
Smooth Transmissions: Seamless operation for efficient and responsive maneuvering.
Efficient Clipping Dispersal: Even distribution of clippings, except in wet grass.
User-Friendly Maintenance: DIY tasks like changing fluid are straightforward.
Enhanced Comfort Features: Improved over basic tractors, suspension seat kit available.
Versatile Performance: Handles most lawns effectively, shows reliability.
What We Don't Like
Limited Performance on Wet Ground: Struggles in mushy, shaded backyards, leading to rutting.
Moderate Comfort: Comfortable but hills might require suspension seat kit.
Potential Clumping in Wet Conditions: Clippings clump in wet grass, needs attention.
Deck Scraping Maintenance: Regular scraping after dense vegetation is time-consuming.
Not Ideal for Large Lawns: Compact size and 34-inch deck less efficient for larger yards.
Muddy Terrain Challenges: Traction compromised, additional work with push mower.
Modest Additional Accessories: Limited accessory range compared to larger models.
Potential for Scalping: Care needed on uneven terrain to avoid scalping.
Wider Tires and Enhanced Stability
In my one year of hands-on experience with the Gravely Compact-Pro 34, my unique insights stem from the 60 hours I dedicated to it last year amidst a business slowdown. Despite the circumstances, I'm eager to provide my candid perspective on this machine.
To amplify its capabilities, I opted for wider tires, strategically chosen to mitigate rutting concerns and fortify stability on inclines. This modification yielded palpable improvements, although minor rutting persisted. Nonetheless, the marked enhancement in hillside stability was evident, easily approximating around a 50% increase in my estimation.
Superlative Cut Quality
The hallmark of the Gravely Compact-Pro 34 lies in its exceptional cut quality. One can only envision the remarkable results that could be achieved when embellishing the lawn with those coveted stripes. The precision and finesse it brings to the mowing process are truly remarkable.
Maintenance and Engine Power
Vigilant maintenance is a prerequisite for the machine. When confronting dense vegetation, anticipate significant deck scraping. Swiftly addressing this by scraping the deck on the same day is imperative, as the task becomes progressively arduous later.
The 15.5 HP engine defied my initial skepticism by proving its prowess. Its remarkable power surpassed expectations. In my extensive usage, it has never faltered, consistently surmounting diverse challenges with remarkable ease.
Smooth Transmissions and DIY Maintenance
The transmission operation is not only smooth but also swift. The responsiveness of the transmissions amplifies the overall operational efficiency. In a recent inspection, identifying the need for transmission fluid change, I undertook the task myself. The experience, albeit apprehensive at first, turned out to be remarkably straightforward, resulting in valuable time and cost savings.
Even Clippings and Comfort Considerations
The cutting deck presents clumping issues primarily in wet grass scenarios. Conversely, for all other mowing circumstances, the clippings are uniformly distributed, culminating in a neat and pristine appearance.
In terms of comfort, the Gravely Compact-Pro 34 bridges the gap between a standard lawn tractor and a more advanced model. While it notably surpasses the comfort of a traditional tractor, protracted operation on hills can be taxing. To mitigate this, investing in a suspension seat kit could be an astute choice, assuaging comfort concerns.
Overall Performance and Versatility
In summation, my experience with the Gravely Compact-Pro 34 has been overwhelmingly positive. It adeptly manages most lawns, albeit encountering challenges in damp, sun-starved backyards. My approach involves employing it for general mowing duties, with tougher, muddy areas tackled by a push mower. This machine has consistently demonstrated reliability and performance, securing its position as a valuable landscaping tool.
Cub Cadet Ultima ZT1 42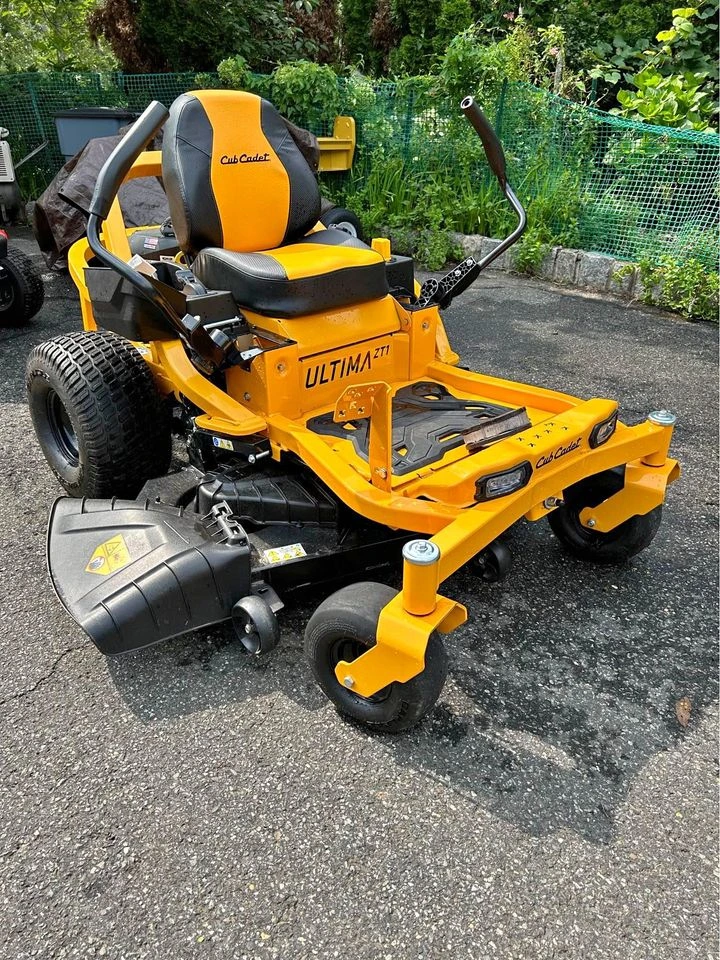 As someone who takes immense pride in maintaining a lush and well-groomed lawn, my quest for the perfect mower led me to the Cub Cadet Ultima ZT1 42. In this detailed review, I'm thrilled to share the profound impact this exceptional small zero-turn mower has had on my lawn care routine. Join me as I delve into its standout features, remarkable performance, and the sheer satisfaction it brings.
Comfort and Convenience:
The moment I settled into the high-back seat of the Cub Cadet Ultima ZT1 42, complete with armrests, I knew I was in for a game-changing experience. The comfort it provided during extended mowing sessions was unparalleled. Fatigue was no longer an issue, allowing me to tend to my lawn with renewed enthusiasm. Steering became second nature, thanks to the ergonomic lap bars that granted me effortless control, making obstacles a breeze to navigate around. The dual LED headlights proved indispensable during those early morning and twilight mows, their illumination ensuring every pass was precise and thorough. The rear hitch, an unexpected bonus, turned my mower into a versatile workhorse, accommodating attachments for diverse tasks throughout the seasons.
Cutting Performance:
The 42-inch heavy-duty fabricated cutting deck immediately impressed me with its craftsmanship. It handled my grass with an exceptional blend of precision and resilience, leaving behind an immaculate finish. The 3-blade cutting system was the star of the show, allowing me to tailor cutting heights from 1 to 4 inches with seamless ease. This adaptability not only met but exceeded my expectations, enabling me to achieve my desired lawn aesthetics effortlessly. The deck wash system, an ingenious addition, made post-mowing cleanup effortless. A quick hose down effectively removed clippings and debris, sparing me the laborious task of manual cleaning. And the 22hp Kohler engine, with its impressive power, ensured a consistently powerful and uninterrupted cutting experience, regardless of the thickness of the grass.
Durability and Maintenance:
The robustness of the Cub Cadet Ultima ZT1 42 left a lasting impression. The fully welded steel frame and meticulously crafted fabricated deck instilled confidence in its longevity. Even after enduring multiple mowing sessions, the mower retained its structural integrity, showing no signs of wear. The triple guard corrosion defense system was a testament to its thoughtful design, safeguarding critical components against rust and deterioration. What truly delighted me was the reduction in maintenance tasks. With fewer grease points and a transmission that required no routine maintenance, I found myself spending significantly less time and resources on upkeeping, allowing for more time to enjoy the fruits of my labor.
Verdict
The Cub Cadet Ultima ZT1 42 has undoubtedly revolutionized my approach to lawn care. Its fusion of comfort, performance, and durability is unmatched in the realm of small zero-turn mowers. The user-centric features, paired with its exceptional cutting capabilities, have surpassed my every expectation. Whether I aimed for professionally striped perfection or a uniformly even cut, this mower consistently delivered outstanding efficiency. My lawn has transformed into a testament to its excellence. Without a shadow of doubt, the Cub Cadet Ultima ZT1 42 is an invaluable addition to my lawn care arsenal, and I eagerly anticipate the continued elevation of my lawn care endeavors with this remarkable machine.
How It Performed Long-Term
As we reflect on our experience with the Cub Cadet Ultima ZT1 42 over an extended period, it's safe to say that our initial impressions have held strong. This mower has continued to impress us, showcasing remarkable performance that stood up to the test of time.
From the outset, it effortlessly conquered areas with thick, tall grass, and we even put it to the challenge of tackling stubborn weeds that we had pulled out. The mower's capabilities remained consistent, reaffirming its dependability.
While there was a slight learning curve with the controls in the beginning, we quickly adapted and now maneuver with a level of confidence that speaks volumes about the mower's user-friendliness.
The ease with which we can execute quick turns adds a layer of convenience to our mowing sessions, enhancing overall efficiency. Yet, it's worth noting that we did encounter a recurring issue with the battery connection becoming loose.
As a precaution, we ensure that the connection is snug before each use, which has mitigated any potential inconvenience.
Setting aside this minor concern, our long-term experience with the Cub Cadet Ultima ZT1 42 has been remarkably smooth.
Even after an additional three months of intensive use, we're pleased to report that the mower has maintained its performance and durability without a hitch. Its cutting prowess remains consistent, its controls have become second nature, and its overall reliability has stood up to the rigors of regular use.
Toro TimeCutter 75734
What We Like
High-Speed Cutting Deck: Delivers precise cuts and saves mowing time.
Smart Speed Technology: Offers adjustable speeds for efficient control.
Intuitive Controls: Easy handling, suitable for all skill levels.
Anti-Vibration System: Reduces fatigue and provides a comfortable ride.
Large Fuel Tank: Longer mowing sessions with fewer refueling breaks.
Precision and Performance: Ensures meticulous lawn maintenance.
Agility and Maneuverability: Navigate obstacles smoothly.
What We Don't Like
Size Limitation: Not suitable for larger properties.
Price Point: Could be higher due to advanced features.
Maintenance Complexity: Requires attention to keep features functioning.
Limited Terrain: Best suited for flat landscapes.
Learning Curve: May take time to master handling.
Noise Level: Potentially higher noise output.
Storage Space: Needs adequate storage due to its features.
As a passionate lawn enthusiast, I've had my fair share of experiences with various lawnmowers over the years. However, none have left as lasting an impression as the Toro Timecutter 75734.
High-Speed Cutting System for Unmatched Precision
The 42-inch high-speed cutting deck of the Toro Timecutter 75734 immediately caught my attention. As someone who takes pride in a neatly manicured lawn, this feature was a game-changer. With every pass, the precision of the cuts was unparalleled. The deck design not only ensured even cuts but also significantly reduced the time I spent mowing. What used to be a chore turned into a satisfying task.
Smart Speed Technology for Ultimate Control
One of the standout features for me was the smart speed technology. Three-speed options meant that I could easily adapt to the different areas of my yard. Whether it was a wide-open space or a tight corner, the mower's agility amazed me. This flexibility was further enhanced by intuitive controls. As someone who appreciates ease of use, I found the controls to be well-placed and responsive, giving me the confidence to navigate obstacles effortlessly.
Anti-Vibration System for Enhanced Comfort
Mowing can often be a tiring endeavor, but the anti-vibration system of the Toro Timecutter 75734 truly made a difference. Reduced operator fatigue meant that I could tackle my entire yard without feeling worn out. The smoothness of the ride was a testament to the engineering that went into this mower.
Practicality at Its Finest: Large Fuel Tank Capacity
Now, let's talk about practicality. The large fuel tank capacity was a blessing. Long gone were the days of constant refueling interruptions. This meant that I could power through my yard in one go, which was especially appreciated during those longer mowing sessions.
In conclusion, the Toro Timecutter 75734 has set a new standard for small zero turn mowers. It's a perfect blend of precision, power, and practicality. If you're in search of a mower that delivers exceptional results and makes mowing a joy rather than a chore, look no further. My lawn has never looked better, and I owe it all to the Toro Timecutter 75734.
Husqvarna Z242F
What We Like
Effortless Maneuverability: The Z242F's compact design and responsive steering ensure easy navigation around obstacles and tight spaces.
Intuitive Controls: User-friendly panel allows quick adjustments to cutting height and blade engagement, simplifying the mowing process.
Comfortable Operation: Ergonomic high-back seat reduces fatigue during longer mowing sessions, enhancing overall comfort.
Precision Cutting: Powerful engine and 42-inch cutting deck deliver a clean, uniform cut, saving time and improving lawn aesthetics.
Durability: Sturdy cutting deck and frame, backed by a robust three-year warranty, guarantee long-lasting performance.
What We Don't Like
Limited for Larger Lawns: Better suited for small to medium-sized lawns, lacking the cutting capacity for larger properties.
Accessories: Offers minimal additional attachments or accessories for specialized lawn care needs.
Noise Levels: Gas-powered engine noise might be disruptive in noise-sensitive environments.
Maintenance: Requires regular maintenance like oil changes, filter cleaning, and blade sharpening.
Learning Curve: Slight learning curve for newcomers to zero-turn mowers in mastering steering and maneuvering techniques.
Effortless Mastery in Every Operation
Upon my first encounter with the Husqvarna Z242F, its sleek design and ergonomic control panel were immediately striking. The intuitive layout of the controls made transitioning from my old mower seamless.
With a quick glance, I could adjust the cutting height and engage the blades, allowing me to focus on the art of mowing itself. This user-friendly interface transformed what used to be a laborious task into a satisfying outdoor endeavor.
A Comfortable Ride for Extended Sessions
A feature that often goes unnoticed until its absence is the quality of the seat. The high-back seat of the Z242F, however, deserves recognition.
Long mowing sessions no longer result in discomfort; the seat's ergonomic design cushions and supports, enabling me to glide across my lawn without feeling fatigued.
The reduction in physical strain has truly redefined my perception of lawn care, making it a more enjoyable and less arduous task.
Maneuverability Redefined
The true test of a zero-turn mower lies in its ability to navigate intricate landscapes. My lawn boasts a variety of obstacles, from trees and garden beds to intricate pathways.
The Z242F's compact design and responsive steering make maneuvering around these obstacles a breeze.
The machine's agility surprised me—it effortlessly weaves through tight spaces and executes precise turns, ensuring no corner of my lawn goes untouched.
Precision Performance and Impressive Coverage
At the heart of any mower's effectiveness is its cutting performance. The Husqvarna Z242F delivers on all fronts. Its powerful engine propels the blades with enthusiasm, resulting in a clean, uniform cut.
The 42-inch cutting deck covers substantial ground with each pass, drastically reducing mowing time.
Whether the grass is thick or thin, wet or dry, the Z242F handles it with grace, consistently producing an immaculate finish that adds to the aesthetic appeal of my lawn.
Built to Endure
Investing in a mower is an investment in the future of your lawn care routine. The Z242F's construction exudes durability—a feature evident in the robust cutting deck and frame.
It's a machine that's designed to withstand the demands of regular use, and this confidence is backed by a comprehensive three-year warranty.
Husqvarna's commitment to quality and longevity is reassuring and adds value to the overall package.
A Must-Have for Lawn Enthusiasts
After months of using the Husqvarna Z242F, it's evident that this zero-turn mower is a class apart. Its intuitive controls, comfort-enhancing features, and exceptional maneuverability are unrivaled in the market.
The precision it offers in mowing performance, combined with its solid construction, cements its position as a must-have for homeowners with small to medium-sized lawns.
If you're seeking a reliable, efficient, and comfortable companion for your lawn care journey, the Husqvarna Z242F is a choice you won't regret. It has revolutionized the way I approach lawn maintenance, and I wholeheartedly recommend it to anyone who values excellence in their outdoor endeavors.
What to Look for in a Zero-Turn Mower
Assess Your Lawn Size
The first step in choosing the right small zero-turn lawnmower is to accurately assess the size and characteristics of your lawn. Take note of its dimensions, terrain, and any obstacles like trees, flower beds, or pathways. If your lawn is relatively small and flat, a compact zero-turn mower might be the ideal choice. However, for larger lawns with slopes, curves, and intricate landscaping, a larger and more powerful mower with enhanced maneuverability is essential.
Cutting Width and Deck Size
The cutting width and deck size of a zero-turn lawnmower significantly impact your mowing efficiency. The cutting width refers to the swath of grass the mower can cut in a single pass. A broader cutting width translates to faster mowing times. Similarly, the deck size influences the mower's ability to navigate around obstacles and cover more ground efficiently. For smaller lawns, a narrower deck might be sufficient, while larger lawns benefit from wider decks that reduce the number of passes required.
Engine Power and Performance
The engine power of a zero-turn lawnmower is a crucial factor in its performance. When selecting a mower, consider the horsepower of the engine in relation to the size of your lawn. Smaller lawns might not demand a high-powered engine, but for extensive and challenging terrains, opting for a mower with ample horsepower ensures smoother operation and faster completion of mowing tasks. A more powerful engine also helps maintain consistent cutting performance, even in dense or tall grass.
Comfort and Ease of Use
Mowing your lawn should be a comfortable and user-friendly experience. Look for features that enhance comfort and ease of use. Choose a mower with an ergonomically designed and adjustable seat to reduce fatigue during extended mowing sessions. Adjustable steering controls allow you to tailor the mower's handling to your preferences. Cruise control functionality can be especially useful for maintaining a consistent speed, particularly in larger areas. Moreover, prioritize models with durable wheels that provide stability and smooth operation across various terrains.
Budget Considerations
While exploring your options, keep your budget in mind. The price of zero-turn lawnmowers can vary based on factors such as engine power, cutting width, and additional features. Establish a budget range that aligns with your requirements and prioritize features that are essential for your lawn size and terrain. Remember that investing in a mower with suitable capabilities can result in long-term savings through improved efficiency and reduced maintenance.
By taking into account these detailed factors—such as lawn size, cutting width, engine power, comfort, and budget—you'll be better equipped to select the perfect small zero-turn lawnmower that meets your specific needs and ensures optimal lawn maintenance results.
How We Tested the Smallest Zero-Turn Mowers
We conducted extensive testing on a range of lawn mowers, including both walk-behind and riding options, with a specific focus on zero-turn models.
Our evaluation process involved assembling and timing the mowers, followed by mowing our lawns on multiple occasions under different weather conditions.
We analyzed various aspects such as cutting performance, maneuverability around obstacles and slopes, and the user-friendliness of features.
We compared these mowers to previous models and assessed them based on setup, design, performance, ease of use, safety, and value.
Beyond the initial tests, we also conducted a three-month assessment of their durability and performance across diverse grass and weather conditions.
Final Verdict
Selecting the ideal small zero turn mower requires considering various factors. Amidst the numerous options available, our review narrows down the top six models, outlining their strengths and weaknesses.
It's crucial to account for your lawn's size, terrain, cutting deck dimensions, and budget before making a decision. Each mower we've discussed offers unique features, catering to different preferences.
We hope our review aids you in choosing the perfect small zero turn mower, simplifying your lawn mowing tasks effectively.