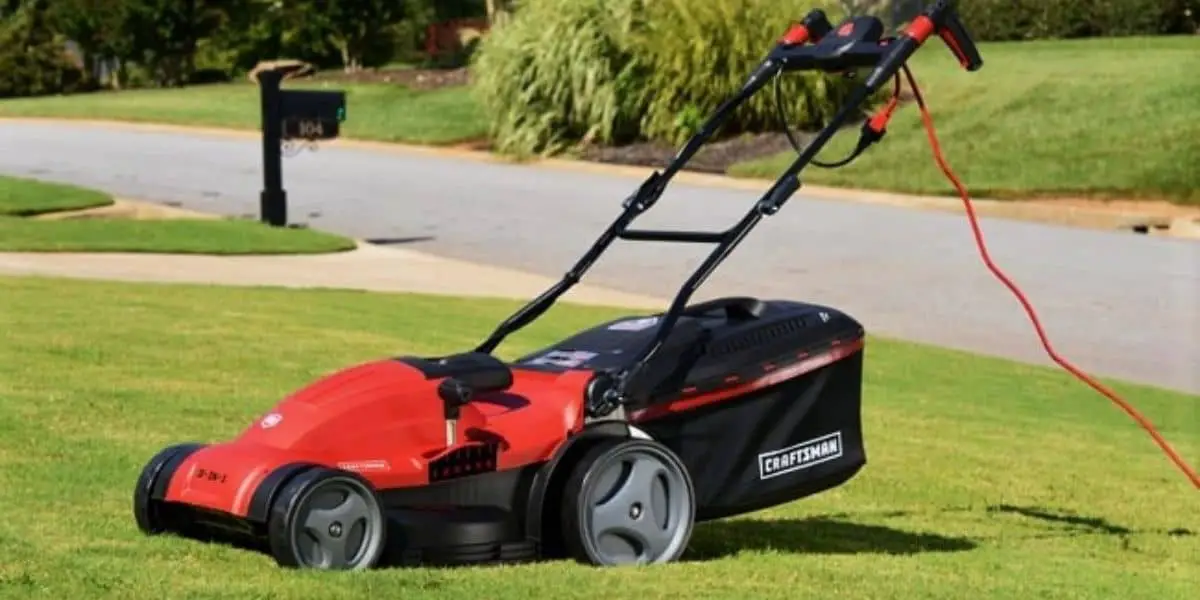 Unlike the other lawn mower, an electric corded lawn mower has some advantages and disadvantages. they are not suitable for every type of lawn size and type. But under the right condition, the electric lawn mower is a perfect choice.
Then what are the benefits of a corded electric lawn mower?
The major advantage of the mowers they are quiet and won't disturb the neighbors. They are environment friendly and also economical. They do not require any oil or gas.
There are two types of electric mower:
Corded mower
Cordless mower.
Corded lawn mowers are powered by an eclectic outlet through an extension cable. Conversely, the cordless mowers are powered by a battery.
Top 7 Benefit Of Buying A Corded Electric Lawn Mower
Engine
According to my research, most the electric mower has a 10 amp to 16/18 amp motor. The motor provides enough power to cut the toughest grass. Unlike gas or petrol power, an electric mower doesn't need an auto choke or spark plug. It's every time to start with a single power button press or turn the pull cord.
Extension Cord
Based on the motor AMP and your lawn sized always choose a rated gauge extension cord.
| | |
| --- | --- |
| Motor Power | Extension Cord |
| 10 amps | 16-gauge outdoor extension cable |
| 15 amps | 12-gauge outdoor extension cable |
Note: Lower extension cable number more powerful than a large number. If you need more click here.
Mower Design
Generally, the electric lawn mower comes with a compact and lightweight design. For their lightweight design they are easy to push and control also they save garage storage. The maximum electric mower offers a foldable handle and adjustable wheel height. You can easily change the handle height for its adjustable handle and get rid of back pain in your mowing time.
Running
The cordless mower has an unlimited running time. But the running radius is around 100 feet.
Maintenance
Electric lawn mowers are easy maintenance. They have not required any type of oil or gas. Also, they don't need air filters and spark plugs. After the end of every mowing season, you need to inspect the mower battery life (Cordless mower), Extension cord (Corded mower), clean the deck and blades. After that store the mower in a safe environment.
Cutting Quality and Height Adjustments
Basically, the electric mower deck size is around 13 inches to 21 inches. And its motor power combined with razor-sharp blades and provides a clean cut every time. Also, the mower including a cutting height adjustment option. The cutting height adjustment allows the grass at different levels.
Grass Management
The mower has a super awesome grass management system. The most electric mower offers 3-in-1 ability (Mulching, bagging, and side discharge) and fewer features 2-in-1 option. With its 3-in-1 capability, you can quickly choose between mulching, bagging, and side discharge. Mulching is good for the soil and it provides natural nutrition and maintains a healthy lawn. Instead, you can choose, the rear bagging. The rear grass catcher is made of fabric and it's easy to attach and empty. On the other hand, this mower has a side discharge. It's a very common way to manage the clipping grass.
Maneuver
When it comes to the maneuver, it is very easy to push.
Basically, the mowers come with two types of drive systems namely Self-propelled or push types. For a self-propelled drive system, you need to control the mower and for the push drive system you need to grab the handle the push it forward and it starts the job.
For its, small engine it's only suitable for Flat yards. If you have a hilly yard, I encourage you to purchase a gas-powered lawn mower.
Safety Tips
Always use a rated highlighted cord.
Never mow on the wet grass or rainy seasons
Always mow on the dry grass
Before, start the mowing inspect the lawn and remove the stone or other hard obstacles.
Avoid mowing in the dark
Need To Improve Of The Corded Mower
In my experience and research, I found a major drawback that's its limited range.
Here's Our Top 3 Best Corded Electric Lawn Mower
Greenworks 25022
12 Amp Motor
Affordable & Lightweight
Foldable Handle
3-in-1 Discharge Ability
10-Inch Rear / 7-Inch Front Wheels
American Lawn Mower Company 50514
11 Amp Motor
Affordable & Lightweight
Foldable Handles
2-in-1 Discharge Ability
7-inch large rear wheels
WORX WG719
12 AMP Motor
A Little Heavy Weight
One-Touch Fully Collapsible Handle
3-in-1 Discharge Ability
Caster wheel